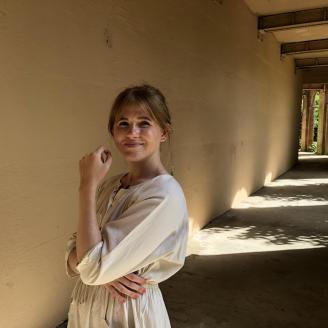 Following several summer stints selling tickets at the Edinburgh Fringe Festival, in 2016 I joined DAA Management as assistant to comedy agent Debi Allen and moved with her to Curtis Brown the following year. I now assist Sheila Crowley on her wonderful list of fiction and non-fiction titles.
In both fiction and non-fiction I love stories that use comedy as a tool to delve into identity and am always looking for something to make me laugh. I'm drawn to distinctive voices that lead the narrative, with a greater focus on exploration of character than plot. My recent highlights include Nothing to See Here by Kevin Wilson, Wow, No Thank You by Samantha Irby and Character Breakdown by Zawe Ashton. I'm captivated by whip smart prose, like in Katherine Heiny's Standard Deviation, as well as experimental pieces that interrogate outdated structures and values, such as Sara Levine's Treasure Island!!!. I'm also fond of funny and memorable protagonists that stay with me, like Candice Carty-Williams' Queenie, or Emer McLysaght and Sarah Breen's Aisling.
I studied Children's Literature for my Masters degree, and am interested in middle-grade and YA literature with a grounding in realism. Stories that have too obvious an intended moral or lesson are not for me; I prefer narratives that capture the nuanced realities that young people are facing today. Favourite authors in this regard include Juno Dawson, Jacqueline Wilson, Angie Thomas and of course, Louise Rennison. I also have a soft spot for series fiction and would love to find The Sleepover Club or Babysitters Club for a modern audience.