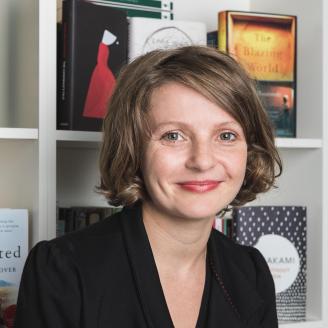 I am actively looking for new fiction and non-fiction, particularly new voices in fiction, great novels, crime, thrillers and suspense, expertise-based and narrative non-fiction (see below).
For submissions, please send your work and a biographical note to suttonofficesubmissions@curtisbrown.co.uk.
I love great writing in fiction and non-fiction. My list ranges from award-winning literary fiction to popular fiction and non-fiction bestsellers. I represent novelists, short story writers, public intellectuals, journalists, visual artists, nature and science writers, writers of memoirs, historians and campaigners from around the world.
My clients include winners of major awards, from The Man Booker and Pulitzer Prizes to The Nobel Peace Prize and Time Person of the Year. I represent many international bestsellers, including number one Sunday Times and New York Times Bestsellers.
My aim is to create a boutique environment within a larger agency to champion quality and to help writers reach audiences across a range of media (books, film, television, podcasts). I work with an incredible team of colleagues across translation, dramatic and audio rights.
I started my career at International Creative Management (now ICM Partners) in the Book and Film Departments. In 2020 I was named Agent of the Year at the British Book Awards https://www.thebookseller.com/awards/shortlists/literary-agent
My assistant is Caitlin Leydon

See below for what I am looking for.

Fiction:
Literary fiction (contemporary and historical) dominates my list and I am always on the lookout for interesting new voices and compelling stories, but I also love crime, thrillers, unusual/subversive detective fiction, high-concept bookclub fiction, quality speculative and cross-genre fiction, nail-biting suspense, psychological drama, excellent genre-defying writing, clever, suspenseful or big-hearted novels that range from epic to intimate.
Non-fiction:
Narrative (non-fiction that reads like fiction), memoir, smart ideas, urgent and unusual perspectives, philosophy, psychology, history, interesting professional expertise or academic research with general-audience appeal, writing that stems from life experience, hybrid non-fiction writing, environment, nature and science writing, mission-driven books with a campaigning element, politics.
---
Books I have represented in recent years include The Testaments by Margaret Atwood, Girl, Woman, Other by Bernardine Evaristo, Educated by Tara Westover, To Be a Machine by Mark O'Connell, The Mermaid and Mrs Hancock by Imogen Hermes Gowar, The Book You Wish Your Parents Had Read by Philippa Perry, Elizabeth is Missing by Emma Healey, This Changes Everything by Naomi Klein, I Am Malala by Malala Yousafzai, Justice by Michael Sandel, Fleishman is in Trouble by Taffy Brodesser-Akner, Notes to Self by Emilie Pine, All the Light We Cannot See by Anthony Doerr, A Good Enough Mother by Bev Thomas.

---
More about my taste in fiction:
I love great literary and commercial writing. In both, I am looking for compelling stories that move, challenge, entertain, make me think or feel more deeply. I like writing that stops you in your tracks, makes you laugh or cry, writing that engages with contemporary culture in an interesting way or imagines something new. I look for original ideas, plots that keep you on your toes, in-depth but lightly-worn historical research that makes history feel immediate, sophisticated characterisation, distinctive voice, wry social observation, modern life and mores, imagination, nuance, intelligence, seriousness, playfulness, humanity.
When I read a manuscript, I look for an original voice and commitment to the art and craft of writing. Is the writing good? Is it arresting or atmospheric? Is it original? If the book is voice-led then I follow the voice. If it's story-driven then I pay attention to plot development and pacing as well as narration. I want to feel that the writer is invested in the book's style and content, and that they fully inhabit their genre, that the stakes are high for them. I care about characterisation. I am unlikely to take on a novel with poorly-drawn characters. I need to believe the characters and feel compelled by them. I don't have to like them. I am interested in complexity. The books that draw me in often feature multi-dimensional characters and narrators with rich internal lives.
To give some examples, I love the voice, attitude and psychological complexity of My Year of Rest and Relaxation by Ottessa Moshfegh, Motherhood by Sheila Heti, Normal People by Sally Rooney, The Sisters Brothers by Patrick DeWitt, We Are All Completely Beside Ourselves by Karen Joy Fowler.
I love the storytelling and historical research of The Blind Assassin by Margaret Atwood and Golden Hill by Francis Spufford; the speculative world of the Maddaddam Trilogy, the psychology, historical research and ambition of Wolf Hall by Hilary Matel.
I am dazzled by the writing of David Mitchell (particularly the yearning and high concept of number9dream) and I will read anything written by Sarah Waters. I hope someone writes a book that feels like Parasite. I like fable, mythology, fairly tales. This can translate into the love of Alan Garner, Angela Carter or Madeline Miller.
Some of the books I have recently admired include Weather by Jenny Offill, A Little Life by Hanya Yanagihara, HHhH by Laurent Binet, Americanah by Chimamanda Ngozie Adichie, SPQR by Mary Beard, The Topeka School by Ben Lerner, Mars Room by Rachel Kushner, I Am, I Am, I Am by Maggie O'Farrell, The Uninhabitable Earth by David Wallace-Wells, Trick, Mirror by Jia Tolentiono, Lullaby by Leïla Slimani, Sapiens by Yuval Harari, Sontag by Benjamin Moser, Feel Free by Zadie Smith, The Rehearsal and Luminaries by Eleanor Catton, The Vegetarian by Han Kang, novels by Joseph Kanon, Lee Child, Tana French, Rosamund Lupton.
Get ready for The Story of Art Without Men by ⁦@KatyHessel⁩ ⁦@thebookseller⁩ ⁦@CBGBooks⁩ Will make waves. Did you k… https://t.co/Mu6irtd8WR
Follow @KarolinaSutton