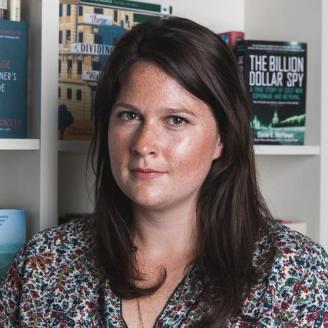 I am proud to represent a list of hugely talented fiction and non-fiction authors. In both I am always drawn to brilliant social observation and clever storytelling. I love structural conceits and deftly woven plots, writing with purpose – and a sense of mischief.

Currently I am looking for commercial and reading-group novels written with wit and warmth, irresistible contemporary romance, truly chilling ghost stories, and thrillers with a high concept and strong emotional roots. For submissions, please email me at lucy.morris@curtisbrown.co.uk with your synopsis and first three chapters (for fiction), or your proposal (for non-fiction).

In fiction, I represent both commercial and literary writing. I am interested in topical themes, incisive social commentary and thoughtful, intimate observations of people: their emotions, their behaviours, their relationships. Books with heart and humour, and voices that sparkle with originality. Long-time favourites include Megan Abbott, Liane Moriarty and Marian Keyes, and recently I've loved Tia Williams' Seven Days in June, Clare Chambers' Small Pleasures, and Rachel Khong's Goodbye Vitamin. I have read (and will continue to read) everything that Mhairi Macfarlane has ever published – modern and completely irresistible love stories, underpinned by spirited characters and a fierce wit. In crime and thriller I look for high concepts with an emotional core, and am very lucky indeed to work with Gillian McAllister, queen of the moral dilemma!

In non-fiction I enjoy working with writers to bring their passion and expertise to a wide audience in books that are practical and accessible, told with an engaging voice. I have a particular soft spot for memoir, stories of extraordinary lives and remarkable careers. I'm always intrigued by an unusual approach to putting a life on to the page, think Maggie O'Farrell's masterful I Am, I Am, I Am, or the food vignettes of Nigel Slater's Toast.

I am lucky to represent a number of Curtis Brown Creative graduates, including Hazel Barkworth, Benji Waterhouse, Elizabeth Lee and Tina Orr Munro. Working editorially with writers is a real joy of the job. I love developing ideas with debut authors, as well as working with established writers who might be looking for fresh eyes or a change of direction.

In 2019 I set up the Curtis Brown First Novel Prize as part of the agency's 120th birthday celebrations and am proud to represent the winner, Chịkọdịlị Emelụmadụ, whose debut novel Dazzling will be published by Wildfire in 2023. I am also part of the team behind Discoveries, a development programme for unpublished women writers launched in partnership with the Women's Prize Trust, Audible and Curtis Brown Creative. Now in its second year, the programme culminates in the Discoveries Prize for a novel-in-progress, and I am delighted to be a member of the judging panel.