book
| Fiction
| 2014
UK & Comm →
Constable & Robinson
US & Canada →
St Martin's Press Inc
Forensic expert Professor Nick Fennimore has engineered lectures in Chicago and St Louis a ploy to get to Detective Chief Inspector Kate Simms. Shes in the United States on sabbatical with St Louis PD, and hes keen to see her again. Simms is working with a method swap team, reviewing cold cases, sharing expertise. But Simms came to the US to escape the fallout from their previous case the last thing she needs is Fennimore complicating her life. A call for help from a sheriffs deputy in Oklahoma seems like a welcome distraction for the professor until he hears the details: a mother dead, her child gone echoes of Fennimores own tragedy. Nine-year-old Red, adventuring in Oklahomas backwoods, has no clue that he and his mom are in the killers sights. Back in St Louis, investigators discover a pattern: victims all of them young mothers dumped along a 600 mile stretch of I-44. The Oklahoma and St Louis investigations converge, uncovering serial murders across two continents and two decades. Under pressure, the killer begins to unravel, and when a fresh body surfaces, the race is on to catch the I-44 killer and save the boy.
Rights
Katie McGowan manages the translation rights for Believe No One
Translation Rights Sold
German
World
Goldmann Verlag
Media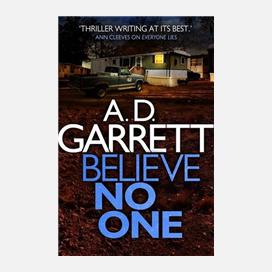 Reviews
They pull all these plot threads together into a gripping read that still leaves unanswered questions - about Josh's shady past and Suzie's fate. I can't wait for more!
Hilary Williamson
BookLoons Reviews