book
| Fiction
| Feb 2020
World English →
Macmillan
(Ed. Nicole Otto)
Featured in BookPage's Most Anticipated YA Debuts 2020
Featured in Entertainment Weekly's 50 Most Anticipated Books of 2020 list
Featured in BuzzFeed's Highly Anticipated YA Books That Are Coming Out In 2020 list
Featured in Amazon's February Editors' Picks in Young Adult Fiction
Featured in Paste Magazine's The 10 Best Young Adult Novels of February 2020
Caraval meets Throne of Glass in All the Stars and Teeth, a high seas YA fantasy, first in a two book series, anchored by a fierce heroine intent on proving her right to the throne.

She will reign.

As princess of the island kingdom Visidia, Amora Montara has spent her entire life training to be High Animancer—the master of souls. The rest of the realm can choose their magic, but for Amora, it's never been a choice. To secure her place as heir to the throne, she must prove her mastery of the monarchy's dangerous soul magic.

When her demonstration goes awry, Amora is forced to flee. She strikes a deal with Bastian, a mysterious pirate: he'll help her prove she's fit to rule, if she'll help him reclaim his stolen magic.

But sailing the kingdom holds more wonder—and more peril—than Amora anticipated. A destructive new magic is on the rise, and if Amora is to conquer it, she'll need to face legendary monsters, cross paths with vengeful mermaids, and deal with a stow-away she never expected… or risk the fate of Visidia and lose the crown forever.

I am the right choice. The only choice. And I will protect my kingdom.

Rights
Roxane Edouard manages the translation rights for All the Stars and Teeth
Film Rights
Available
Contact Hillary Jacobson for more information
Translation Rights Sold
French
World
Editions de Saxus
German
World
Piper Verlag
Russian
World
Eksmo Publishers
Media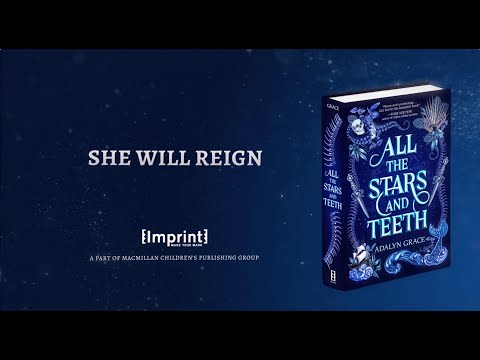 Reviews
Beautiful and bloody. Vicious and charming. Dark and romantic. Let All the Stars and Teeth ensnare your heart and soul

Astrid Scholte
Grace crafts a romantic and bloody nautical adventure featuring a fierce, but deeply flawed heroine governed by loyalty and justice for her people. This book is a thrilling, magical world I didn't want to leave.

Isabel Ibañez
Author of WOVEN IN MOONLIGHT
ALL THE STARS AND TEETH is a debut jam-packed with swashbuckling adventure, swoonworthy romance, and dark, lush magic. Amora Montara and the crew of Keel Haul will drop anchor in your heart and refuse to leave until you've turned the last page.

Christine Lynn Herman
Author of THE DEVOURING GRAY
ALL THE STARS AND TEETH is a deliciously twisted fantasy that keeps your heart jumping from page to page. Grace's epic storytelling is a blend of fantastically creepy blood magic and lush island world-building, and brings an exciting new voice to the YA scene. Richly imaginative and full of political intrigue, I loved every moment of this fast-paced adventure!

Akemi Dawn Bowman
Author of STARFISH and the upcoming THE INFINITY COURTS
Vicious and alluring, ALL THE STARS AND TEETH is a force to be reckoned with.

Hafsah Faizal
Author of WE HUNT THE FLAME
Adalyn Grace's captivating magic and lush world building brings ALL THE STARS AND TEETH to life. You'll fall in love with her cast of fierce and unrelenting characters, and their thrilling sea adventure will keep your heart pounding until the very last page. Do yourself a favour and get lost in this beautiful book!

Tomi Adeyemi
Author of CHILDREN OF BLOOD AND BONE
Grace wields her own magic with a skillful balancing act between high-stakes adventure (here there be monsters, mermaids, and high-seas shenanigans), bloody fantasy, and character development in a story with a lovable found family at its core [...] An accomplished, exciting debut.

Kirkus
Full Review
[Grace] will immerse readers in a story of deadly mermaids and turbulent adventures at sea.

PopSugar
Promising a flawed but ambitious heroine, dark magic, mysterious pirates and a unique seafaring setting [...] if the buzz surrounding [All the Stars and Teeth] gets any louder, it'll be deafening.

BookPage
If an epic sea fantasy filled with strange pirates and vengeful mermaids speaks to your interests, well... we may have found your favourite book ever. Even if not, we'd still urge you to give Adalyn Grace's rollicking debut a go.
Entertainment Weekly
An alluring fantasy, recommended for readers who appreciate characters and themes of a darker nature.

School Library Journal
An intriguing and entertaining debut novel [...] a must-read for fans of fierce feminist YA reads. I can't wait to read more of what Adalyn Grace writes next.

The Young Folks
A serious contender for the best fantasy of the year.

Fansided
Breathtakingly adventurous, this debut is ambitious in its worldbuilding and alluring in its characterizations. There's a lot here that will appeal to fantasy readers, and an open ending will have them hoping for a sequel.

Booklist
Full Review
This fast-paced duology opener excels in its careful consideration of the responsibilities that come with power.

Publishers Weekly
Amora, a princess of the island kingdom Visidia, has spent her life training to master soul magic to secure her place as heir to the throne. But when her demonstration goes awry and she's forced to flee, the only person she can turn to is a mysterious pirate named Bastian [...] And as they sail the kingdom, they'll encounter legendary monsters, vengeful mermaids, and a destructive new magic. Aragorn fans will fall hard for Bastian and desperately crave the sequel.
BuzzFeed