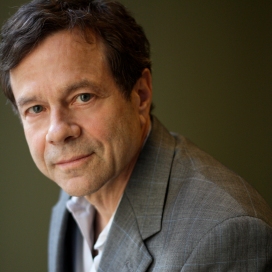 Alan


Lightman

American scientist and novelist
Alan Lightman was born in Memphis, Tennessee, and educated at Princeton and at the California Institute of Technology, where he recived a Ph.D. in theoretical physics. An active research scientist in astronomy and physics for two decades, he has also taught both subjects for the faculties of Harvard and MIT. His novels include Einstein's Dreams, which was an international bestseller and The Diagnosis, which was a finalist for the National Book Award. His essays have appeared in the New York Review of Books, the New York Times, Nature, The Atlantic Monthly, the Washington Post and the New Yorker, among other publications. He lives in Massachusetts, where he is adjunct professor of humanities at MIT.
"Lightman's best book since Einstein's Dreams...a piercing story of social dissolution in damaged Cambodia...an important story of global women's rights."
Annie Proulx
on Three Flames
Lyrical and poignant, Three Flames weaves the stories of three generations of a poor, Cambodian farming family as they struggle to survive and hold on to their humanity...Beautifully written and told with great compassion, Alan Lightman's novel gives readers a family that is rich in stories, history, and heart, proving in the end that love shines even in the midst of great darkness.
Loung Ung
author of First They Killed My Father on Three Flames
Set in Cambodia, Lightman's first novel in almost a decade follows three generations of a rural farming family as they struggle to adjust to changing values and the steady encroachment of the modern world.
The New York Times Book Review
on Three Flames
Searching for Stars on an Island in Maine is a splendid read in its entirety. Complement it with Carl Sagan on science and spirituality, Richard Feynman on why uncertainty is essential for morality, and Simone de Beauvoir on the moral courage of nonbelief, then revisit Lightman on the transcendence of creative work and his poetic ode to science and the unknown.
Maria Popova
Brainpickings on Searching For Stars On An Island In Maine
Lightman's illuminating language and crisp imagery aim to ignite a sense of wonder in any reader who's ever pondered the universe, our world, and the nature of human consciousness.
Publishers Weekly
on Searching For Stars On An Island In Maine
[Lightman's] discursive method is full of insight into some of the mysteries of the physical world, as well as the physics of mystery.
Tim Adams
The Guardian on Searching For Stars On An Island In Maine
[Lightman's] elegant and evocative prose draws in the reader, and I felt as if I were strolling alongside the author while he thought aloud.
Alan Hirshfeld
The Wall Street Journal on Searching For Stars On An Island In Maine