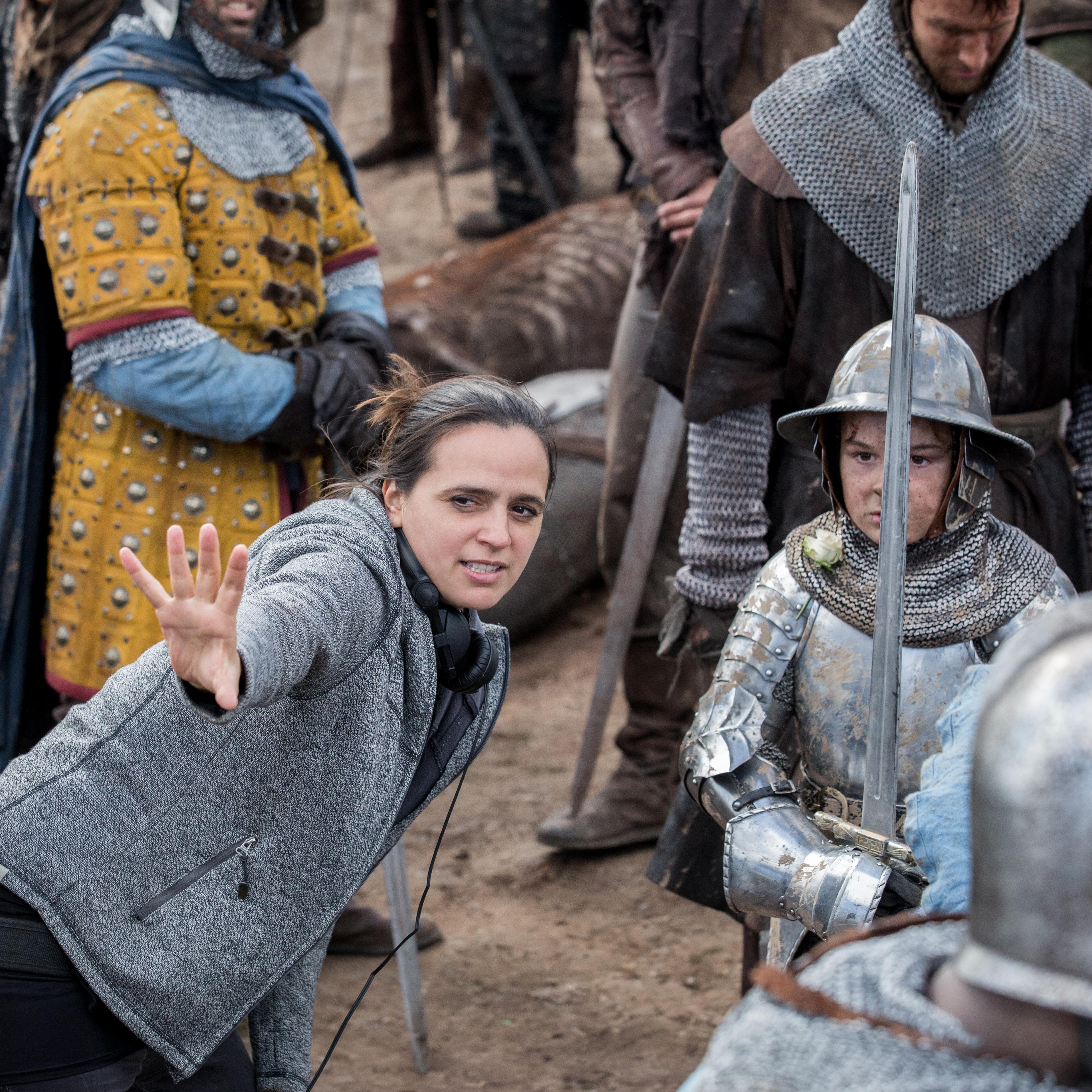 Alex


Kalymnios

Drama director for television and film
Alex Kalymnios most recently directed TV movie Love You To Death for Lifetime, starring Marcia Gay Harden and Tate Donovan. She has recently worked on The White Princess for Company Pictures and Scott and Bailey for Red Productions.
Alex directed "Eloise Gardener" for ABC's Once Upon A Time as well as working on episodes for You Tube Red's Impulse and The CW's Emmy nominated mystery-drama series The 100. She has also directed Salem Series 2 in the US for Fox 21 and WGN America, and Cleveland Abduction for Sony Pictures and Lifetime.
Previously Alex directed the Bafta Cymru nominated Becoming Human, a teen spin off of Being Human. After gaining over 1.5 million hits online the show received critical acclaim when it was broadcast on BBC3.
Alex directed four hour-long specials of Hollyoaks Laters, which received a big social media following for its cinematic storytelling, authorial vision and dark storylines. Alex has also directed numerous blocks of TV drama including BBC's flagship shows-Waterloo Road and Eastenders- The Cut, Seacht (in Irish Gaelic) and Channel 4's Hollyoaks and Hollyoaks Laters (Season 1, 2 & 5).
Alex also directs for film. Her first short film- More Than a Job's Worth- won Best New Director at the Greenwich Film Festival and was shortlisted for Best Short at the Raindance East Festival. As a result of the film's success, Alex was selected for the Berlinale Talent Campus. Her short, The Green Fairy, was screened at the LA International Short Film Festival and was selected as one of the British Council's shorts. Alex's first feature The Ugly List is currently being developed by I-features, Creative England.
Prior to this, as a BBC Directors Academy graduate, Alex was picked by Broadcast Magazine as one of their Hotshots in their annual review of young, upcoming talent. Alex is represented by Rob Kenneally, Austin Denesuk, Darian Lanzetta and Carin Sage at CAA in the USA.
Television
Director
Starring
Millicent Simmonds
Fivel Stewart
Producer
Jordan Davis, John Davis
Starring
Marcia Gay Harden
Emily Skeggs
Tate Donovan
Producer
Shawn Ryan, Aaron Rahsaan Thomas
Writer
Michael Jones-Morales
Starring
Shermar Moore
Stephanie Sigman
Lina Esco
Creator
Greg Berlanti, Akiva Goldsman
Producer
Greg Walker, Geoff Johns
Starring
Brenton Thwaites
Teagan Croft
Anna Diop
Warner Brothers / DC Comics
Creator
Eric Kripke, Shawn Ryan
Starring
Abigail Spencer
Matt Lanter
Goran Visnjic
Paterson Joseph
When a group with nefarious intentions attempts to change the world as we know it by altering the past, Lucy, a historian, Wyatt, a soldier, and Rufus, a scientist, unite to form an unlikely partnership, traveling through time to save history.

Writer
Aaron Ginsburg & Wade McIntyre
Starring
Eliza Taylor
Paige Turco
Bob Morley
Set 97 years after a nuclear war has destroyed civilization, when a spaceship housing humanity's lone survivors sends 100 juvenile delinquents back to Earth in hopes of possibly re-populating the planet.

Warner Brothers
for
The CW Television Network
Producer
Michael Seitzman
Starring
Priyanka Chopra
Johanna Braddy
Russell Tovey
A thrilling drama exploring the lives of young government agents as they go through training to become special agents and beyond.

Producer
Doug Liman, Gene Klein, David Bartis
Starring
Maddie Hasson
Missi Pyle
A young woman discovers she has the extraordinary power of teleportation.
Hypnotic / Universal Cable Productions
for
YouTube Red
Creator
Edward Kitsis, Adam Horowitz
Starring
Jennifer Morrison
Ginnifer Goodwin
Lana Parrilla
Robert Carlyle
Colin O'Donogue
Mystery fantasy drama series set in the land of fairy tales and in the contemporary New England town of Storybrooke, where the residents are fairy-tale characters who have lost their memories.

Kitsis/Horowitz
for
Disney ABC
Producer
Lachlan MacKinnon
Starring
Michelle Fairley
Joanne Whalley
Jodie Comer
Based on the Philippa Gregory book of the same name, the story of Elizabeth of York, the White Queen's daughter, and her marriage to the Lancaster victor, Henry VII.
Company Pictures
for
Starz
Creator
Sally Wainwright, Diane Taylor
Starring
Suranne Jones
Lesley Sharp
Two female detectives, one motherly, the other emotionally immature, have varying levels of success applying their eccentric outlooks on life to their police cases and private lives.
Red Production Company
for
BBC Worldwide
Producer
Brannon Braga and Adam Simon (Executive)
Starring
Janet Montgomery
Shane West
Producer
Judith Verno and Frank von Zerneck
Starring
Taryn Manning
Raymond Cruz
Joe Morton
Pam Grier
Sony Pictures Television
for
Lifetime Television
Starring
Laurie Brett
Angus Deayton
Melanie Hill
Zoe Lucker
Long-running drama series which follows the lives of teachers and pupils in a British comprehensive school.
Shed Productions
for
BBC1
Starring
Jorgie Porter
Rachel Shenton
Emmett J. Scanlan
Dylan Llewellyn
Alex directed 4 episodes of the fifth series of the late night Hollyoaks spin-off.
Creator
Maureen Chadwick and Ann McManus
Starring
Jason Done
Eleanor Chaudry
Daniel Chalky
Amy Porter
Shed Productions
for
BBC One
Starring
Josh Brown
Leila Mimmack
Craig Roberts
John Boyega
BAFTA Cymru nominated Becoming Human, is the online spin-off of Being Human and follows a werewolf, a vampire and a ghost as they try to solve a murder whilst simultaneously coming to terms with who they are.
Starring
Liam Bergin
Keir Charles
Rita Simons
Barbara Windsor
BBC1's long running drama set in East London, series produced by Diederick Santer
Starring
Scarlett Bowman
Jess Dickens
Lara Goodison
Alex opened the second series of the BBC Switch teen drama The Cut
Writer
Daran Little, Heather Robson
Starring
Loui Batley
Sonny Flood
Zoe Lister
Andrew Moss
Opening two episodes of a week long Hollyoaks Later special for E4
Lime Pictures
for
Channel 4
Starring
Loui Batley
Hollie-Jay Bowes
Zoe Lister
Glen Wallace
Final episode of a week long Hollyoaks Later speical for Channel 4
Lime Pictures
for
Channel 4
Starring
Michelle Beamish
Linda Bhreathach
Alana Henderson
Andrew Kavanagh
Lead director on Irish teen drama for BBC Northern Ireland
BBC Northern Ireland
for
BBC
Producer
Lucy Allan / Bryan Kirkwood
Starring
Sonny Flood
Jim Miller
Andrew Moss
Lime Pictures long running Chester set drama for Channel 4
Lime Pictures
for
Channel 4
Film
Director
I-Features/Creative England
Starring
Kate Ceridwen
Marcus Charles
Tania Kereishi
Lucy Moses