The Ship Kings: The Coming of the Whirlpool
Short-listed, Australian Book Industry Award, Children's category, 2012, Short-listed, CBCA Book of the Year Award, Older Readers, 2012

book
| Fiction
| 2011
'If you go to sea, you will come to the attention of the Ship Kings. And if they discover who you are, they will kill you.' Young Dow Amber is no sailor. But driven by a strange sea-longing he ventures down to the great grim bay known as the Claw. He hopes to learn there of seafaring, but he finds only a fearful people who scarcely dare sail at all, for they have been cursed by a monstrous whirlpool that haunts the bay, stealing away their sons.

Then the rulers of all the world - the proud and cruel Ship Kings - arrive in the Claw. Dow is fascinated by their fine tall vessels, and even more so by a mysterious girl who lives aboard their flagship.

It is a perilous attraction to be sure, but could it be that his future somehow lies with the Ship Kings? Or will he be called upon to descend to his death, when the terrible whirlpool rises once more?

The Coming of the Whirlpool is the first volume in a stunning series from Miles Franklin Award winner, Andrew McGahan.


Media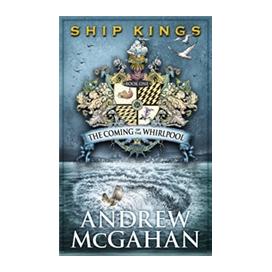 Reviews
For fans of Hornblower, Ramage and Patrick O'Brien's Master and Commander series, but also for fantasy lovers. Anyone who likes C. S. Lewis' Voyage of the Dawn Treader and Robin Hobb's Liveship Traders trilogy would love this book!

State Library of Victoria
Full Review
McGahan has crafted a classic adventure tale with the potential to grow into a true epic… McGahan captures the mystery and romance of the sea, and draws us in with his fine portrayal of his restless lead
Australian Bookseller & Publisher
From the award-winning author of Praise and The White Earth comes a magnificent young adult series about destiny and desire, set in a brilliantly realised fantasy world.
Goodreads
Full Review
McGahan's world is one of man-o-wars and musketry, where magic is confined to the ramblings of a blind maven, where superstition rather than sorcery reigns. It's Treasure Island with a nod to themes of imperialism and colonialism, and with the adventure under full sail by the end of the book, the appetite for adventure on the high seas is truly whetted.
The NSW Writer's Centre
Full Review
Landlubber Andrew McGahan dives into a macabre world of ocean lore with his latest gripping read for young adults.
Linda Morris
Sydney Morning Herald
Full Review
I can honestly say I've had no prior interest whatsoever in sailing or ships, yet I found myself reading this book greedily. The Coming of the Whirlpool reads like an instant classic.
Reading Monthly
Full Review
Masterful storytelling, elegant prose and a powerful sense of place ... the kind of storytelling that stays with you long after the tale has ended
Viewpoint
This beautifully crafted novel shapes up as a classic seafaring tale ... an epic hero story.
Herald Sun