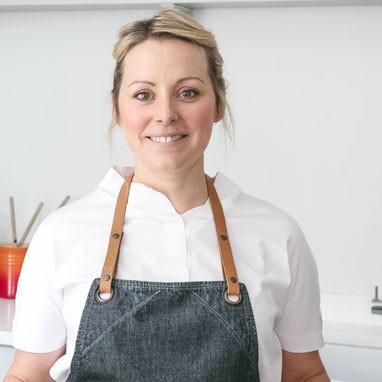 Anna Haugh is the chef patron of Myrtle Restaurant in Chelsea, London. She started at Cathal Brugha street professionally cooking almost 20 years ago. Anna's apprenticeship took place at L'Ecrivain in Dublin and went on to work in Paris for Gualtiero Marchesi.
When Anna moved to London she worked with Shane Osborn at Philip Howard. She has been a director of foods and head chef for Rocket Food before becoming head chef in the opening of London House for Gordon Ramsey.

Anna opened her restaurant team at Myrtle in Chelsea in 2019. One of her ambitions is introducing the people of London to a sophisticated taste of Ireland. The restaurant uses Irish produce and is the heartbeat of the menu. Anna's broadcasting career to date includes: three series of Royal Recipes; one of the main chefs on BBC's Ready Steady Cook and is regular on Saturday Kitchen and Sunday Brunch.
Anna is a regular chef on Morning Live for BBC, and appeared on If These Meals Could Talk.