Young People's Literature Longlist for the National Book Award

book
| Fiction
| 2013
US & Canada →
Walden Pond Press
(Ed. Jordan Brown)
One of Shelf Awareness's Best Books of 2013

On an island on the edge of an immense sea there is a city, a forest, and a boy. The city is called Asteri, a perfect city that was saved by the magic woven into its walls from a devastating plague that swept through the world over a hundred years before. The forest is called the Barrow, a vast wood of ancient trees that encircles the city and feeds the earth with magic. And the boy is called Oscar, a shop boy for the most powerful magician in the Barrow. Oscar spends his days in a small room in the dark cellar of his master's shop grinding herbs and dreaming of the wizards who once lived on the island generations ago. Oscar's world is small, but he likes it that way. The real world is vast, strange, and unpredictable. And Oscar does not quite fit in it.

But it's been a long time since anyone who could call himself a wizard walked the world, and now that world is changing. Children in the city are falling ill, something sinister lurks in the forest. Oscar has long been content to stay in his small room in the cellar, comforted in the knowledge that the magic that flows from the trees will keep his island safe. Now, even magic may not be enough to save it.

Rights
Roxane Edouard manages the translation rights for The Real Boy
Translation Rights Sold
Chinese Simple
Mainland China
Beijing Publishing Group
Media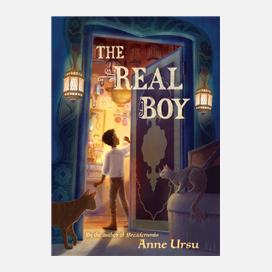 Reviews
It's all highly rewarding and involving, with a tight plot, resonant themes, a gripping adventure, a clearly limned fantasy landscape, and a sympathetic main character.
Martha V Parravano
The Horn Book Magazine
Full Review
In the tradition of The Velveteen Rabbit and Pinocchio [...] a haunting tale.
Jennifer M. Brown
Shelf-Awareness
Full Review
What You're Made Of

A lovely and sophisticated new middle-grade fantasy.
Chelsey Philbot
The New York Times Book Review
Full Review
[The Real Boy] will fondly remind readers of Gail Carson Levine's Ella Enchanted and Meg from Madeleine L'Engle's A Wrinkle in Time.
Caitlin Augusta
School Library Journal (starred review)
Full Review
The Real Boy is an engaging fable about what happens when people reject real life in favor of pleasure, of magic. I enjoyed it very much
Nancy Farmer