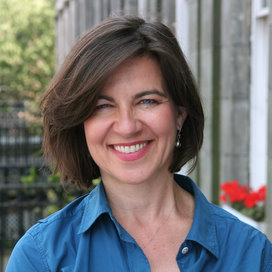 Annie Griffin
Playwright, comedy writer, director and producer for television and film
Biography
Annie Griffin is a writer and director whose comedy talent was behind Channel 4's smash hit show, The Book Group, for which she won an Indy Comedy Award and was nominated for two British Comedy Awards. She occasionally appears in her own shows, and has accompanied her stage productions across the globe.
Many of her productions have appeared at the Edinburgh Fringe Festival, her experiences of which were immortalised in her comedy feature film, Festival, which earned her the British Comedy Award for Best Comedy Film at the British Comedy Awards 2005 and the Best Debut Director Award at the British Independent Film Awards.
Annie has recently directed the new comedy series, Together, for Tiger Aspect and BBC 3, written by Jonny Sweet, which premiered in October 2015.
CV
TV
Writer & Director & Creator
Writer & Creator
Comedy drama about a performance artist
Pirate Productions
for
Channel 4
In development
Writer & Director & Producer
Starring
Paul Kaye
Dennis Pennis
Drama documentary about top female gamblers and women who work in casinos for the Channel 4 Women at Play strand
Pirate Productions
for
Channel 4
Starring
Paul Kaye
David Walliams
Scripted spoof documentary for the Channel 4 Seven Sins strand
Pirate Productions
for
Channel 4
Film
Writer
Feature based on the Spanish myth, Duende
Film 4
Pirate Productions

In development
Theatre
Writer & Director
Starring
Annie Griffin
Mixed media show produced at London's South Bank, at the Time Festival (Ghent) and at the Royal Court, London (1995); and at the Galway Festival, Ireland (1996)
Starring
Alison Edgar
One woman show about the Shakers
Radio
Writer & Director
Starring
Zawe Ashton
Steve Oram
Luisa Omielan
Trevor Laird
Tony Law
Comedy thriller about a stealthy tech start up company
Production Company Pirate Productions
Broadcaster BBC Radio 3