Winner: Best Comedy, BAFTA Scotland
tv


Producer

Anita Overland

Starring
Anne Dudek
Michelle Gomez
Derek Riddell
James Lance
Rory McCann

Production Company Pirate Productions Broadcaster Channel 4
Created, written and directed by Annie, The Book Group first aired on Channel 4 in 2002, quickly drawing a cult following.
American Clare Pettengill, newly arrived in Glasgow, starts up a book group in order to make some new friends. The group consists of three unhappy European football wives, a pretentious drug-addict student, a closet-homosexual football enthusiast, and a kind and gentle struggling author in a wheelchair.
Each week they meet to read and discuss a new book, which always affects or influences each of the group's lives in some way.


Media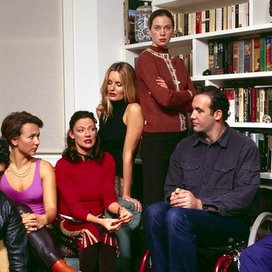 Reviews
delightful...Griffin has captured the spirit perfectly...The comedy is beautifully observed and crafted
Paul Hoggart
The Times