book
| Non-Fiction
| 2009
UK Title: Smile Or Die

How the Relentless Promotion of Positive Thinking Has Undermined America.

A sharp-witted knockdown of America's love affair with positive thinking and an urgent call for a new commitment to realism.

Americans are a "positive" people—cheerful, optimistic, and upbeat: this is our reputation as well as our self-image. But more than a temperament, being positive, we are told, is the key to success and prosperity.

In this utterly original take on the American frame of mind, Barbara Ehrenreich traces the strange career of our sunny outlook from its origins as a marginal nineteenth-century healing technique to its enshrinement as a dominant, almost mandatory, cultural attitude. Evangelical mega-churches preach the good news that you only have to want something to get it, because God wants to "prosper" you. The medical profession prescribes positive thinking for its presumed health benefits. Academia has made room for new departments of "positive psychology" and the "science of happiness." Nowhere, though, has bright-siding taken firmer root than within the business community, where, as Ehrenreich shows, the refusal even to consider negative outcomes—like mortgage defaults—contributed directly to the current economic crisis.

With the mythbusting powers for which she is acclaimed, Ehrenreich exposes the downside of America's penchant for positive thinking: On a personal level, it leads to self-blame and a morbid preoccupation with stamping out "negative" thoughts. On a national level, it's brought us an era of irrational optimism resulting in disaster. This is Ehrenreich at her provocative best—poking holes in conventional wisdom and faux science,and ending with a call for existential clarity and courage.

Rights
Audio Rights
Available
The audio rights are handled by Alice Lutyens.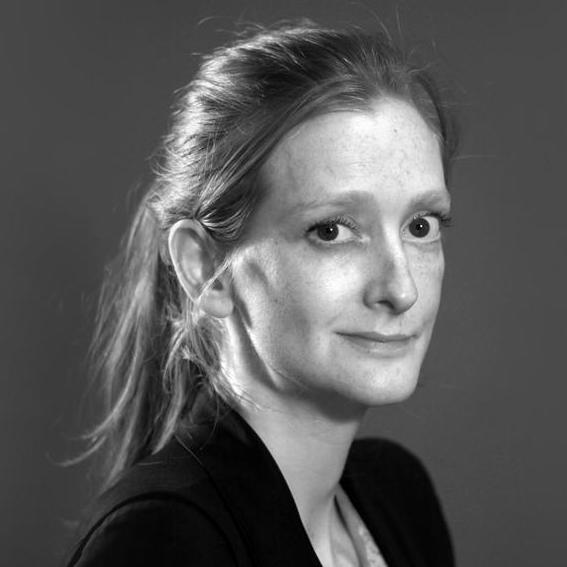 Daisy Meyrick manages the translation rights for Bright-Sided
Translation Rights Sold
Chinese Complex
World
Rive Gauche
Chinese Simple
Mainland China
Cheers Publishing
German
World
Antje Kunstmann Verlag
Japanese
World
Kawade Shobo
Portuguese
Brazil
Distribuidora Record
Russian
World
Astrel Publishers
Spanish
World
Turner Publicaciones SL
Swedish
World
Leopard Forlag
Turkish
World
Koleksiyon Yayinlari
Media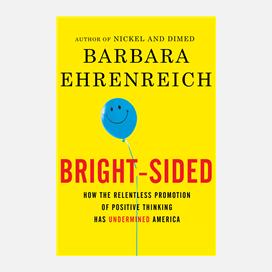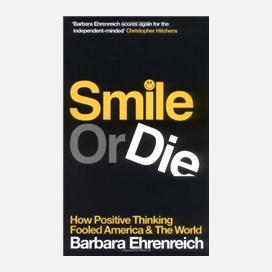 Reviews
In this wide-ranging and stinging look at the pervasiveness of positive thinking, Ehrenreich warns against a "reckless optimism" that causes individuals - and nations - not to plan for inevitable downturns and disasters.
Booklist Starred Review
Full Review
Bright, incisive, provocative thinking from a top-notch nonfiction writer.
Kirkus Starred Reviews
Full Review
I must confess, I have waited my whole life for someone to write a book like Bright-Sided.
Hanna Rosin
New York Times
Full Review
Ehrenreich delivers a trenchant look into the burgeoning business of positive thinking.
Publishers Weekly Starred Review
Full Review
Ehrenreich convinced me completely. . . I hesitate to say anything so positive as that this book will change the way you see absolutely everything; but it just might.
Nora Ephron
The Daily Beast
Ehrenreich puts the glazed perkiness of a have-a-nice-day culture on the chopping block. An uplifiting read for anyone who resents being told to 'turn that frown upside down'
The Times
Fascinating, often very funny, and wholly convincing...stunningly good
The Sunday Times
An invigoratingly aggressive and lucidly intelligent attack on the multi-tentacled nonsense monster...for all the pleasure to be taken in its acidic wit, Smile or Die is deadly serious at its core...Fine, funny and angry.
Daily Mail
Unless you keep on saying that you believe in fairies, Tinkerbelle will check out, and what's more, her sad demise will be your fault! Barbara Ehrenreich scores again for the independent-minded in resisting this drool and all those who wallow in it.

Christopher Hitchens