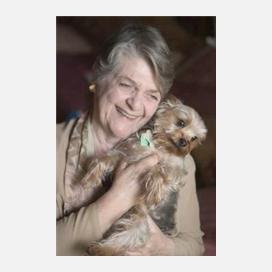 Barbara


Sher

American self-help author
Barbara Sher is a business owner, career counselor, and best-selling author of seven books, each of which provides a down-to-earth, nuts-and-bolts method for uncovering natural talent, pinpointing goals and turning dreams into reality.

She has often been named the "godmother of life coaching" by the media and her many fans. Barbara has presented seminars and workshops throughout the world to universities, professional organizations, Fortune 100 corporations, and federal and state government agencies. Joining forces with public television, she has also created five hour-long special programs that continue to air in cities around the U.S.

In 1972 she invented Success Teams — small groups in which members dedicate their efforts to helping each other find and achieve their goals. Today, her Success Teams are operating across the globe from Cupertino to Kathmandu. Her first book Wishcraft: How to Get What You Really Want, (1979), has become a classic, selling over one million copies in more than a dozen translations. In 2009 Wishcraft celebrated its 30th year in print with special events around the world.

Barbara has received many awards and an honorary PhD; she has appeared on local and national radio and television shows, including The Oprah Winfrey Show, CNN, the Today Show, 60 Minutes and Good Morning America, and has had feature articles in The New York Times, The Wall Street Journal and many other newspapers and magazines. And she periodically teaches seminars at the Smithsonian Institute, Harvard University and New York University.
Sher's unique view of aging is a heartening one, and it is sure to bring encouragement to those who would like to see "the big 4-0" as a beginning rather than an end.

Amazon.com on It's Only Too Late If You Don't Start Now
Comprehensive and inviting . . . eminently practical

San Francisco Examiner & Chronicle on Wishcraft: How to Get What You Really Want
Wise, compassionate, and pragmatic. Written by an expert for people of all ages who seriously want that something in life
Theodore Isaac Rubin
on Wishcraft: How to Get What You Really Want