Winner of the Total Theatre Award for Music and Theatre at the Edinburgh Festival, 2009
theatre


Edinburgh Festival, Soho Theatre, National Tour
Sue is a piano-wielding prophet who has so far kept her thoughts to herself. But now she is ready to let rip.
She invites you into her lounge, where she'll sing through life from finishing school to Doomsday. Tales of schoolgirl passion and middle-aged longing, of ancient demons reawakened and of Armageddon sweeping through Cardiff town centre.
Or she might just tell you what she had for lunch.
This was co-written and created with
Dafydd James.
Sue returned to the Edinburgh Fringe Festival in 2013.
Media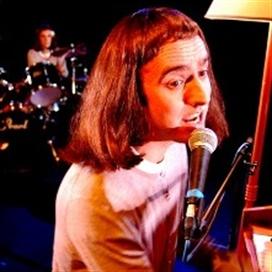 Reviews
With impressive attention to comic detail, it's an exciting and original piece of work that boasts a laugh rate that would be the envy of most stand ups
James Kettle
The Guardian
bizarre but brilliant…hysterically funny and beautifully played
Time Out
There are loads of labels that you can stick on My Name is Sue, but none of them quite describes why it works so well. James and Lewis have written an act of great skill and strangeness
Dominic Maxwell
The Times
It's not often that you come across something truly original. My Name Is Sue is the most bizarrely original, unexpected and funny show currently playing in London. Maybe anywhere.
Carole Gordon
What's On Stage
certainly one of the most unusual, remarkable and memorable hours on the fringe
The Stage
Full of energy and humour, it was also surprisingly touching in places as you empathised with this somewhat odd-ball character's misfortunes
Karen Price
Wales Online