book
| Fiction
| 2008
UK & Comm →
Hamish Hamilton
(Ed. Simon Prosser)
UK & Canada →
Riverhead Books
(Ed. Megan Lynch)
Welcome to a world turned upside down. One minute, Doris is playing hide-and-seek with her sisters in the fields behind their cottage. The next, someone puts a bag over her head and she ends up in the hold of a slave ship sailing to the New World.
When she finally arrives on a strange tropical island, Doris discovers that she is, in fact, a pig-ugly savage with a brain the size of a pea, whose only purpose in life is to please her mistress.
While experiencing the hardships of life in the sugarcane fields, she dreams of escape, of finding those she has loved and lost, and of returning home to her motherland, England...
Rights
Helen Manders manages the translation rights for Blonde Roots
Audio Rights
Available
The audio rights are handled by Alice Lutyens.
Translation Rights Sold
Hungarian
World
K und K Kiado
Media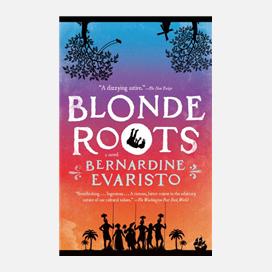 Reviews
...This brilliant novel will fulfil [Evaristo's] purpose of making readers view the transatlantic slave trade with fresh eyes.
The Times
Evaristo has provided a brilliant satire whose flashes of comedy make the underlying tragedy all the more poignant.
Scotland on Sunday
As with Swiftian satire, Evaristo's novel is powerful not for its fantastical elements but for its ability to bring home the horror of historical events.
Book of the Year
the Financial Times