The Wave That Shook the World
AAAS Science Journalism Award
tv


Producer

Martin Williams

Director

Lara Acaster & Alex Williamson

Starring
Simon Boxall
Phil Cummins
Chris Goldfinger
Richard Gross

Production Company WGBH
The tsunami that hit on the 26th of January 2004 was the result of a an undersea section of the Earth's crust that slipped along a 700-mile-long fault off the coast of Sumatra; the consequence was mass devastation and over 250,000 people left dead or missing.
Bill McGuire investigates why this, the biggest tsunami since the epic wave created by the titanic eruption of Krakatoa, happened when it did. Minute by minute footage documents the disaster that swept though the Indian Ocean basin, meanwhile experts reveal that it is a question of when rather than if another such catastrophe will strike.
Media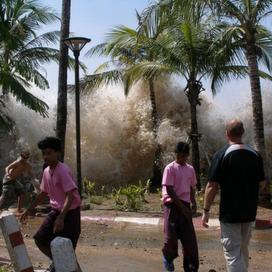 Reviews
A great combination of science and human drama.
Warren Leary
The New York Times
I think everyone who worked on this film hoped that a piece of science journalism like this would, at the very least, help viewers make some sense of this disaster.
Joseph McMaster (Producer NOVA)
In any particular earthquake, you'll get a different, what we call "tsunami train." There isn't just one wave; there's usually several waves. And it doesn't follow any particular rules.
Bill McGuire