Publishers Weekly Best Book of the Year

book
| Fiction
| 2014
World English →
Putnam
(Ed. Arianne Lewin)
Buzzfeed's The 17 Best YA Books of 2014
LA Public Library 10 Best Books of 2014
Cybils finalist

Theo is better now.

She's eating again, dating guys who are almost appropriate, and well on her way to becoming an elite ballet dancer. But when her oldest friend, Donovan, returns to their Chicago suburb after four long years with his kidnapper, Theo starts reliving memories about his abduction--and his abductor.
Donovan isn't talking about what happened, and even though Theo knows she didn't do anything wrong, telling the truth would put everything she's been living for at risk. But keeping quiet might have consequences far worse than she can imagine.

A heartbreaking yet hopeful story about learning how to let go of our most shameful secrets.
Rights
Audio Rights
Available
The audio rights are handled by Tina Dubois.
Roxane Edouard manages the translation rights for Pointe
Translation Rights Sold
Portuguese
Brazil
V & R Editoras
Spanish
Latin America
V & R Editoras
Media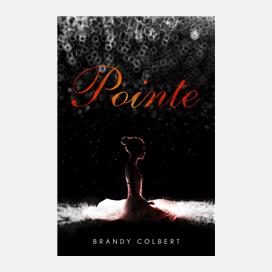 Reviews
Pointe deals with serious topics, but it's never unbearably grim, thanks to Theo's honest, engaging narrative voice.
Christine Hepperman
The Chicago Tribune
Full Review
A suspenseful, absorbing novel.
Horn Book Review
Full Review
Dancing at the Edge

Brandy Colbert's Pointe is an exception; it is the rare novel that is both nourishing and impossible to put down. [...] It's also a deeply important and poignant book, and one I very much wish I'd written.
McCormick Templeman
Los Angeles Review of Books
Full Review
This book has to be made into a movie because it deals brilliantly with issues of teenage vulnerability and consent.
Ellen Oh
MTV
Full Review
It's an intriguing premise, and debut author Colbert does a commendable job creating authentic teen characters that readers will recognize from the halls of their own high schools.
Kirkus Reviews
An extraordinary book
Publishers Weekly (starred review)
Full Review
For her debut, Colbert has put out a stunningly poignant novel. This captivating book is a must-purchase at libraries where readers are looking for darkly emotional and bold book choices. Readers who discover this book will be unable to put it down.
Shana Morales
VOYA
Full Review
A brave and resonant debut that is as captivating as it is heartbreaking.
Nina LaCour
Brandy Colbert's debut is beautiful, sharp and memorable.
Courtney Summers