book
| Fiction
| 2013
UK & Comm →
The Friday Project
'My final science fiction novel' - Brian Aldiss

Brian Aldiss has announced that this book, Finches of Mars, will be his final science fiction novel. And what a way to end one of the most illustrious careers in the genre.

Set on the Red Planet, it follows the stories of a group of colonists and the problems they have in setting up a new society. Life can be sustained, but new life will not prosper: the women on the planet only ever give birth to stillborn children.

Exploring many of the author's classic themes, this is a landmark novel in any genre.
Rights
Melissa Pimentel manages the translation rights for Finches of Mars
Audio Rights
Available
The audio rights are handled by Alice Lutyens.
Film Rights
Available
Contact Joe Phillips & Jenn Lambert for more information
Translation Rights Sold
Russian
World
AST Publishers
Media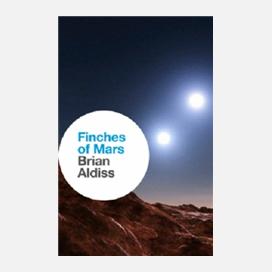 Reviews
Finches of Mars values the ambitious potential for storytelling at the heart of Science Fiction, of dealing in ideas that can be described as grand, important as well as relevant.
Paul Risker
Starburst Magazine
Now in his 80s, Aldiss is acknowledged as a British grand master of science fiction. Once again he demonstrates the power of his imagination.
David Bradbury
Daily Mail
The novel is a thoroughgoing examination of humankind's flaws and potential. It's jaundiced, cantankerous, intellectually engaged, and in the end grudgingly optimistic.
Financial Times
It's a terrific yarn, but more than that; as Aldiss casually throws out ideas and speculations, it's a reminder of why he's one of the giant's of the field.
SFX Magazine