Bestselling novelist Carl Hiaasen is back with another hysterical mystery adventure for young readers, set in the Florida Keys.

You know it's going to be a rough summer when you spend Father's Day visiting your dad in the local lockup.

Noah's dad is sure that the owner of the Coral Queen casino boat is flushing raw sewage into the harbor–which has made taking a dip at the local beach like swimming in a toilet. He can't prove it though, and so he decides that sinking the boat will make an effective statement. Right. The boat is pumped out and back in business within days and Noah's dad is stuck in the clink.

Now Noah is determined to succeed where his dad failed. He will prove that the Coral Queen is dumping illegally . . . somehow. His allies may not add up to much–his sister Abbey, an unreformed childhood biter; Lice Peeking, a greedy sot with poor hygiene; Shelly, a bartender and a woman scorned; and a mysterious pirate–but Noah's got a plan to flush this crook out into the open. A plan that should sink the crooked little casino, once and for all.
Rights
Roxane Edouard manages the translation rights for Flush (Childrens)
Audio Rights
Available
The audio rights are handled by Liz Farrell.
Translation Rights Sold
Chinese Complex
Taiwan
Little Trees Press
Chinese Simple
Mainland China
Shanghai Dook
French
World
Editions Gallimard
German
World
Beltz & Gelberg
Hebrew
World
Trivaks Publishers
Korean
World
Gimm Young & Co Korea
Portuguese
Brazil
Editora Fundamento
Media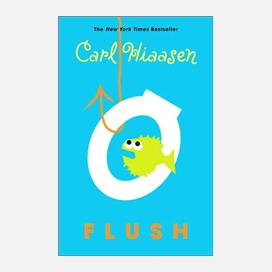 Reviews
This quick-reading, fun, family adventure harkens back to the Hardy Boys in its simplicity and quirky characters.
School Library Journal
Full Review
Hiaasen's second novel exhibits [...] a delightful quirkiness.
Booklist
Compulsively readable with a cleverly conceived resolution. Fans of spy stories, action, environmental intrigue, and, well, Hiaasen, will cheer for this one.
The Bulletin