Winner: Best Ensemble, The Stage Edinburgh Awards theatre


Producer

China Plate

Director

Alex Swift

Starring
Hannah Boyde
Seiriol Davies
Caroline Horton

Traverse Theatre, Edinburgh
Caroline's new show Mess premièred at The Traverse at the Edinburgh Fringe 2012.
Josephine is putting on a play - Boris and Sistahl help. It's about anorexia. You don't need to be put off.
Unflinchingly they confront big issues (and extremely tiny ones) and today they will tackle a particularly thin elephant in the room.
Media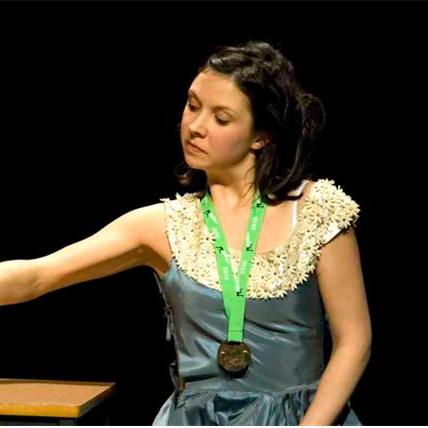 Reviews
inventive and imaginative theatre that says more about the subject than any documentary could. And it is immensely entertaining from start to finish... Very much a must-see
Gerald Berkowitz
Theatre Guide London

Mess transcends the awkwardness of the subject matter with ease, balancing a fine line between sentimentality and bitter truthfulness John Roberts
The Public Reviews

a brave production. It might class itself as a comedy, but it garners genuine tears and manages to say more about eating disorders than most dramatic pieces I've encountered on the topic Michael Cox
Across the Arts

It ought not to work, but it does, charmingly. **** Ian Shuttleworth
Financial Times Full Review

Exquisite in its sensitivity
The Scotsman

An honest and uproarious play
The Metro

Horton plays anorectic young woman Josephine with subtlety, fragility and pathos Mark Brown
The List

a deceptively profound comment on the way adolescents exert control over their eating in a vain attempt to stave off the multifarious confusions — not to mention possibilities — of the adult world Fiona Mountford
Evening Standard
Caroline Horton's brilliantly odd and highly moving anorexia comedy is a must see
Andrzej Lukowski
Time Out