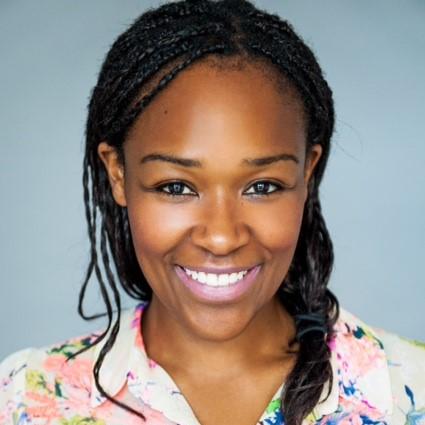 Charlene


James

Playwright
Charlene James is an award-winning playwright and TV writer who trained at Birmingham School of Acting and The School at Steppenwolf, Chicago.
Charlene is writing on some of the most popular shows on UK TV and developing her own originals for New Pictures and World Productions.
Charlene was awarded the Alfred Fagon Award, for best new play at the National Theatre for Cuttin' It, a play focusing on Female Genital Mutilation - which then transferred in 2016 to the Royal Court and Young Vic respectively to considerable critical acclaim and was nominated for Best New Play at the UK Theatre Awards 2016.Charlene was awarded the George Devine Award 2015 for the same play as well as winning a BBC Audio Drama award for her radio adaptation of Cuttin' It. She was then awarded the Charles Wintour award for Most Promising Playwright at the Evening Standard Theatre Awards 2016.
She was a Jerwood New Playwright 2016 and is currently under commission from RADA, Royal Court and Royal Exchange Manchester.
Television
Writer
Adaptation of Charlene's play of the same name
New Pictures
In development
World Productions
In development
Starring
Matthew Goode
Teresa Palmer
Starring
Liv Hill
Episode 5: Reclaim the Night. A moment in the experience of a 19 year old woman in Leeds in 1977.

Producer
Rachelle Constant
Monologue piece as part of the BBC's The Break short films.
Theatre
Writer
Co-commission between Royal Court and Talawa.
Manchester Royal Exchange
Cuttin' It
George Devine Award, Alfred Fagon Award, Best New Play (UK Theatre Awards), Evening Standard Most Promising Playwright
Director
Gbolahan Obisesan
Starring
Adelayo Adedayo
Tsion Habte
Follows two 15 year-old girls from Somali backgrounds and their experiences of FGM.
Young Vic, Royal Court Theatre
Produced as part of a Young Theatre Makers partnership.
Birmingham Repertory Theatre
Director
Monique Sterling
Starring
Helen Embleton
Short play as part of Miniaturists 42
New full-length play focusing on the effect of incest
Grief and loss are explored in a play about what geography says about where you really are
Producer
Talawa Theatre Company
Play about fatherhood and motherhood and the meaning of commitment
Young Vic as part of 'Flipping the Script'
Radio
Writer
Radio adaptation of her award winning play - about two 15-year old Somali girls and their experiences of female genital mutilation.
Production Company BBC
Broadcaster
BBC Radio 4