book
| Fiction
| Mar 2021
ANZ →
Hachette Australia
(Ed. Robert Watkins)
UK →
Weidenfeld & Nicolson
(Ed. Federico Adornino)
US →
Riverhead Books
(Ed. Laura Perciasepe)
One night, three women go to the theatre to see a Beckett play. Bushfires are burning in the hills outside, but inside the theatre it is time for the performance to take over.
Margot is a successful, flinty professor on the cusp of retirement, distracted by her fraught relationship with her adult son and her ailing husband.
After a traumatic past, Ivy is now a philanthropist with a seemingly perfect life.
Summer is a young drama student, an usher at the theatre, and frantically worried about her girlfriend whose parents live in the fire zone.
While the performance unfolds on stage, so does the compelling trajectory that will bring these three women together, changing them all.
Rights
Kate Cooper manages the translation rights for The Performance
Film Rights
Available
Contact Clare Forster for more information
Translation Rights Sold
French
World
Editions Gallimard
German
World
Hanser Verlag
Spanish
World
Alba Editorial
Media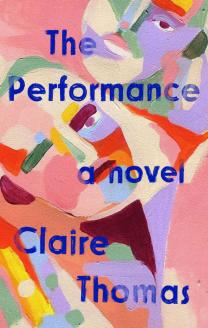 Reviews
Plumbing themes of intimacy, ambition, grief, and longing with a clarity that is both universal and precise, Thomas' slim novel offers a rich source for book groups and all contemplative readers

Booklist, starred review
Full Review
'A book all about surface and what lies underneath the polish and professionalism of women living and working in the twenty-first century. …[Thomas] plays with the conflation of real and artificial, with a seepage of boundaries between city and country, safety and danger, comedy and tragedy. … a pleasure to read: spry, confident and coolly intelligent'

Thuy On
Sydney Review of Books
'Certainly provocative and how each woman interacts with and is altered by the play enacts beautifully the dialectical relationship between art and life … brimming with interesting asides and stimulating musings'

The Weekend Australian
'Claire Thomas has constructed, with graceful precision, a near-perfect wind-up music box of a novel … deliciously clever and self-aware. Not a sentence is overwritten … Thomas handles themes of love and grief, family and the environment, with breath-snatching wisdom … Unforgettably good. 5 stars out of 5'

Artshub
"As wildfires rage outside Melbourne, three women, all on the cusp of new lives, treat themselves to a night at the theater, entranced by Beckett and seeking finales to their own dramas. An acclaimed Australian writer spins an alluring play within a play, probing the ways we perform for each other, how our best selves are mere costumes we shed before curtain call."

Oprah Magazine
"This creative novel not only examines the power art has to bring people together, but it also explores the rich interior lives of three very different women as their lives intertwine over the course of a single night out."

PopSugar
Women are at the centre of this fiercely intelligent novel. Formally bold, it is also humane, playful, absorbing and companionable.

Lisa Gorton
Graceful, complex, intriguing. I read from start to finish almost without looking up, and suspect I will be carrying these characters with me for some time yet. A brilliant contribution to Australian fiction. Bravo, Claire Thomas.

Clare Bowditch
'Restrained and adventurous at once, The Performance is a potent meditation on the private intensity of women's lives. An enigmatic and elegant novel that explores the power of art in revealing us to ourselves.

Charlotte Wood (The Weekend, The Natural Way of Things)
"Cool, compassionate and compelling..."



Daily Mirror
Full Review