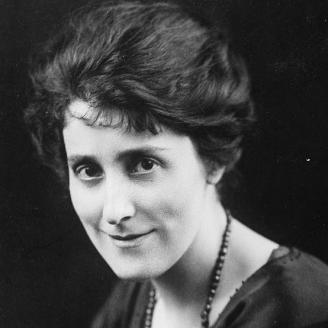 Clemence Dane
Novelist, playwright and journalist
1888–1965
Biography
Clemence Dane CBE (nee Winifred Ashton) was an accomplished novelist, playwright, Hollywood screenwriter, journalist, and pioneering feminist.

Dane's first, and most famous and influential novel Regiment of Women (1917) was based on her experience as a teacher in a girls' school and directly inspired Radclyffe Hall to write The Well of Loneliness (1928). Her 1921 play, A Bill of Divorcement, which tells the story of a daughter who cares for her deranged father was a smash-hit and in 1932 was adapted for film starring Katharine Hepburn and John Barrymore. Dane is also believed by many to be the inspiration for Madame Arcati, the eccentric medium in her friend Noel Coward's play, Blithe Spirit.

Dane won the 1945 Academy Award with Anthony Pelissier for Vacation from Marriage, released in the United Kingdom as Perfect Strangers, starring Robert Donat and Deborah Kerr. Dane also co-wrote the screenplay for Anna Karenina starring Greta Garbo and her detective novel Enter Sir John, the first of her detective trilogy co-written with Helen de Guerry, was the basic for Alfred Hitchcock's 1930 Murder!.

The pseudonym "Clemence Dane" came from the church, St Clement Danes on the Strand, London near to where she grew up.