film
Role Chris Production Company Dudlowe Films Ltd
Chris (Daniel Mays) returns to his home town after a long absence to catch up with best friend Shifty. Over the course of twenty four hours he encounters the world of drug-dealing which Shifty has become involved in and we see echoes of the past that drove Chris away and the dangerous situations which they now find themselves in.

Daniel Mays was nominated for Best Supporting Actor for his performance at the British Independent Film Awards last year after Shifty was featured at the London Film Festival in October 2008.
Media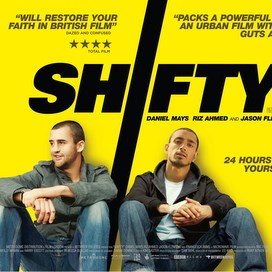 Reviews
Mays, terrific in Red Riding is even better here, suggesting deep reserves of remorse as he tags along with Shifty on an average day's dealings.
Anthony Quinn
The Independent