Book 12 of The Saga of Darren Shan – "Time seemed to collapse… There was a sharp stabbing sensation in my stomach… Steve crowed, "Now I have you - Now You're gonna die!"
Dead if he loses – damned if he wins. The time has finally come for Darren to face his archenemy, Steve Leopard. One of them will die. The other will become the Lord of the Shadows – and destroy the world. Is the future written? Or can Darren trick destiny…?
Rights
Translation Rights Sold
Chinese Simple
Mainland China
People's Literature Publishing House
Media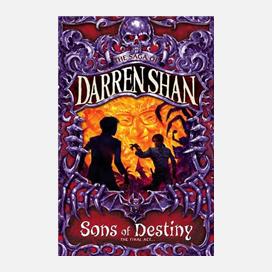 Reviews
With so many turns and plot twists to make you dizzy, Darren Shan has created another reality, choosing to end the series (in the 12th and final instalment Sons of Destiny) in such an incredible yet clever manner that we can't really afford not to believe in the Vampire world laid out before us.
The Guardian