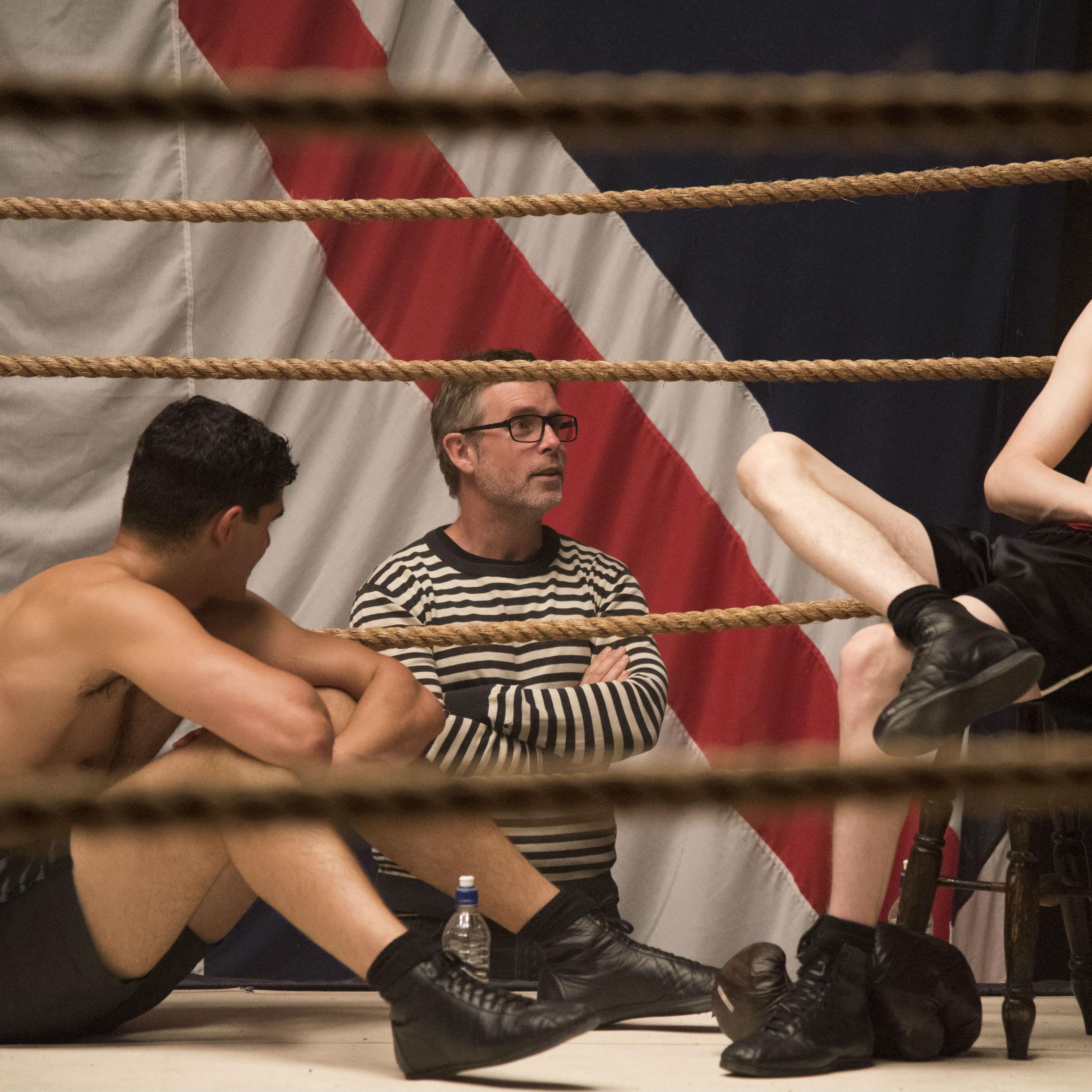 David


Caffrey

Director for film and television
David Caffrey is currently shooting the second season of The Alienist for TNT. He recently directed the whole of Bafta award winning Peaky Blinders series 4 and the 6 part drama Taken Down.
David directed 25 out of 28 episodes of the highest rated series in Irish television history, the award winning Love/Hate. He has most recently directed ITV's Tennison and prior to this comic book icon Stan Lee's Lucky Man, for Carnival Films.
David began his film and TV career working in various production roles on B-movies with Roger Corman, before his short films - Connivers, Bantams and Bolt - caught the eye of the industry.

This resulted in a leap into the feature film arena, with Divorcing Jack for Scala Productions, followed by the 18th century miniseries Aristocrats for BBC/WGBH. On the Nose, a comedy feature for Subotica/Universal, followed.
Since then he has alternated between commercials, features and television drama, the latter including Monarch of the Glen for BBC/Ecosse, Life Begins for ITV/Granada and Wild at Heart for ITV/Company Pictures.
David has directed projects which include Fallout for RTE/Frontier Films, The Commander for ITV/La Plante productions and Raw for RTE/Ecosse.
Television
Director & Executive Producer
Starring
Daniel Brühl
Dakota Fanning
Luke Evans
Starring
Aiden Gillen
Robert Sheehan
Second series of the IFTA winning series about gangland life in Dublin.
Season three of award-winning Irish crime drama.
Starring
Aiden Gillen
Robert Sheehan
Fourth series of the award-winning Irish crime drama.
Director
Writer
Stuart Carolan and Jo Spain
6 episode crime drama series set in Dublin.
FremantleMedia
Post production
Caryn Mandabach Productions
Starring
Stefanie Martini
Sam Reid
Prime Suspect 1973 tells the story of 22-year-old Jane Tennison's first days in the police force, in which she endured flagrant sexism before being thrown in at the deep end with a murder enquiry.



Producer
Gareth Neame, Richard Fell, Beverley Booker
Starring
James Nesbit
Eve Best
Thriller from an idea by comic book icon Stan Lee. DI Harry Clayton, a member of the London-based Murder Squad, is gifted the ability to control luck.
Starring
Vicky McClure
Adrian Dunbar
Lennie James
Martin Compston
A hard-hitting thriller series exploring the world of police corruption.
BBC Drama Productions
for
BBC Two
Starring
Aidan Gillen
Aoibhinn McGinnity
Ruth Negga
Robert Sheehan
Crime drama set in Dublin
Drama about a three-day hostage crisis at a school in South London
Big Talk Productions
for
BBC1
In development
Starring
Shelley Conn
Damon Gameau
Liam Garrigan
Keith McErlean
Drama based in a restaurant in Dublin
Starring
Alexander Armstrong
Frank Finlay
Elliot Henderson-Boyle
Caroline Quentin
Comedy about a woman as she starts afresh after her husband leaves her
Granada Television
for
ITV1
Producer
Christopher Hall
Starring
Amanda Burton
Elisabeth Dermot Walsh
Ayesha Dharker
Penny Downie
Thriller about a conman who is due to be convicted for fraud and then is found floating dead in his pool
La Plante Productions
for
ITV1
Starring
Amanda Holden
Lucy-Jo Hudson
Dawn Steele
Deon Stewardson
Family drama about a Bristol-based vet and his family who emigrate to a game park in South Africa
Company Pictures
for
ITV1
Producer
Gerald Heffernan
Writer
Johnny Ferguson, Declan Jones
Starring
Tara Breathnach
Mick Fitzgerald
Michael O'Connor
Michael O'Sullivan
Drama filmed in the style of a documentary charting the nuclear fallout from the Sellafield Nuclear Processing Plant in Cumbria
Starring
Richard Briers
Julian Fellowes
Susan Hampshire
Alastair MacKenzie
Drama about a London man who is called back home to Scotland to discover he is the Laird of Glenbogle
Producer
Christopher Hall
Starring
Alun Armstrong
Richard Dempsey
Anne-Marie Duff
Julian Fellowes
Adaptation of Stephen Tillyard's biography of upper-class life in 18th century England
Film
Director
Producer
Madeleine French
Starring
Felix Bell
Rebecca Brownett
Robert Easen
Milly Gregory
Film focusing on the friendship between two Bradford City fans
Starring
Laura Fraser
Rachel Griffiths
Jason Isaacs
Robert Lindsay
Black romantic comedy set around the troubled peace process and the effect it has on a cynical Belfast hack
Producer
Scott Kennedy, Tristan Lynch
Starring
Dan Aykroyd
Brenda Blethyn
Robbie Coltrane
Sinead Keenan
Film about a luckless gambler who finally finds the secret to picking winners - a preserved head in a jar
Writer & Director
Starring
Nevan Finegan
Darren Lawless
Terry McMahon
Vincent Smith
Film about a man who is fed up with his car being broken into and decides to take revenge - but with his aim not quite right he ends up with the police on his heels
Starring
Jamie McShane
Johnny Knoxville
Gram Parsons was one of the most influential musicians of his time; a bitter, brilliant, genius who knew Elvis, tripped with the Stones and fatally overdosed on morphine and tequila in 1973.
Writer & Director & Producer
Starring
Maclean Burke
Jessica Freed
Short film about a row that erupts by the beach in Wicklow