From the author of Seven Wonders of the Industrial World, the paperback edition of the TV tie-in charting the shocking but truestory behind the space race – and the ruthless, brilliant scientists who fuelled it.

With the end of the Cold War it is now possible toreveal its generation of secrets and cover-ups, bringing an historical opportunity: the unmasking of the true heroes and villains behind therace to be the first to conquer space. This is one of the greatest stories in history, beginning in the throes of the Second World War and spanning through to the moon landings. With the US and Russia pitched against one another during the Cold War, it was the race to create themost powerful rocket and dominate the world, culminating in 1969's 'giant leap for mankind'. The most pioneering and high-risk experimentsever undertaken cost untold millions – and hundreds of lives, asmistakes were made, some too horrific to be made public. It is a tale that plays out against a backdrop of communism and espionage. Buried within this multi-million-dollar battle between nations, are the dramatic accounts of the individuals who seek to be the winners at any cost. With ex-Nazi Wernher von Braun on the American side pitted againstthe enigmatic Sergei Korolev on the Soviet side, this revealing new history shows the extent to which politics and personal ambitioncombined to create an explosive race for the glory of victory.
Rights
Liz Dennis manages the translation rights for The Space Race
Audio Rights
Available
The audio rights are handled by Alice Lutyens.
Media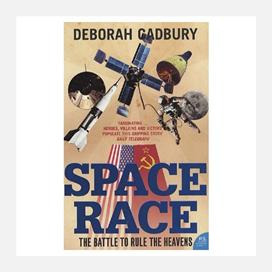 Reviews
Lucid, pacy and readable.

New Statesman
This fascinating book illuminates the complex relations between Germany, America and Russia during the space race of the Cold War years… Space Race is much sharper than the usual television tie-in… Heroes, villains and victims populate this gripping story.



Daily Telegraph