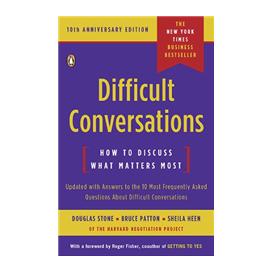 Douglas


Stone &
Sheila
Heen
Douglas Stone and Sheila Heen teach at Harvard Law School and the Harvard Negotiation Project. They have been consultants to businesspeople, governments, organizations, communities, and individuals around the world, and have written on negotiation and communication in publications ranging from the New York Times to Parents magazine.

They co-wrote the international bestselling Difficult Conversations: How to Discuss What Matters Most with Bruce Patton, which has sold over one million copies in the US alone. Difficult Conversations was a New York Times Business Bestseller and was selected as one of the 75 Penguin Classics, and is profiled in 50 Psychology Classics alongside works by Freud, Jung, and Piaget.

Each of them lives in Boston, Massachusetts.