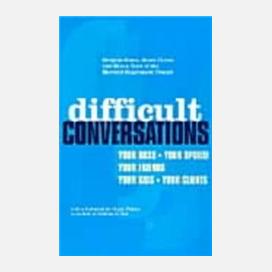 Douglas


Stone, Bruce
Patton
&
Sheila

American non-fiction writers
Douglas Stone, Bruce Patton, and Sheila Heen teach at Harvard Law School and the Harvard Negotiation Project. They have been consultants to businesspeople, governments, organizations, communities, and individuals around the world, and have written on negotiation and communication in publications ranging from the New York Times to Parents magazine. Bruce Patton is also a co-author of Getting to Yes.
Each of them lives in Boston, Massachusetts.
These talented communicators blend a daunting array of disciplines into highly readable and practical advice.

Booklist on Difficult Conversations
Does this book deliver on [its] promise of an effective way through sticky situations, whether 'with your baby sitter or your biggest client'? It does.

New York Times on Difficult Conversations
Emotional Intelligence applied to life's tough moments.
Daniel Goleman
on Difficult Conversations