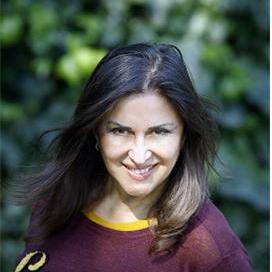 Described by
Food&Wine Magazine
in America as Turkey's Julia Child and Martha Stewart rolled into one, Engin Akin is world-renowned authority on Turkish gastronomy, a radio and TV personality, a celebrated hostess, and the first address in Turkey for food writers from all over the world. She writes a weekly column on the national daily
Vatan
. Her book with Mirsini Lambraki,
Two Nations at the Same Table
, is a comparative study between the cuisines of Turkey and Greece and won the Best Mediterranean Book award from the Gourmand Book Awards in Barcelona in 2004. For eight years she hosted a weekly one-hour radio program, Taste Talks covering both Turkish and international cuisines on the highly rated Açik Radio, in Istanbul.
Engin Akin is a distinguished lecturer in her field with an international reputation. She has been a guest speaker at Marmara University in Istanbul and at the Culinary Institute in Napa, California, as well as in many other venues. She is fluent in English. She was featured in a front page, ten-page article in Food & Wine in 2001 and her recipes have appeared in several international publications including The San Francisco Chronicle and The Los Angeles Times, Food Arts, etc. Engin has participated in several art performances relating to food at Modern Arts Museum in Luxembourg, as well as art galleries in Turkey. She has also contributed to Bon Apetite Magazine with eight traditional Turkish recipes and has been mentioned about her food in New York Times and several other food magazines published in the USA.