book
| Fiction
| 2003
UK →
Hodder and Stoughton
The friends of the title are Ted Mundy, British soldier's son born 1947 in a shining new independent Pakistan, and Sasha, refugee son of an East German Lutheran pastor and his wife who have sought sanctuary in the West.
The two men meet first as students in riot-torn West Berlin of the late Sixties, again in the grimy looking-glass of Cold War espionage and, most terribly, in today's unipolar world of terror, counter-terror and the war of lies.
Rights
Film Rights
Available
Contact Nick Marston for more information
Kate Cooper manages the translation rights for Absolute Friends
Audio Rights
Available
The audio rights are handled by Alice Lutyens.
Translation Rights Sold
Chinese Complex
World
Ecus Publishing House
Dutch
World
Uitgeverij Luitingh-Sijthoff
French
World
Editions Du Seuil
German
World
Ullstein Buchverlage
Greek
World
Harlenic Hellas
Hebrew
World
Kinneret Zmora Bitan
Korean
World
Open Books Co.
Norwegian
World
Cappelen Damm
Spanish
Spain
Plaza y Janes
Turkish
World
Alfa Publishers
Media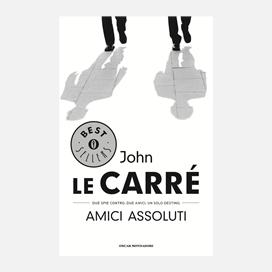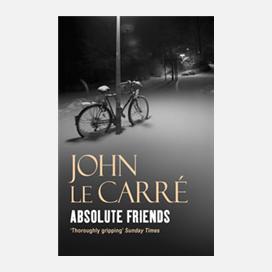 Reviews
Le Carré's precise and fastidious voice introduces us at the opening of his latest novel to a deeply sympathetic and intriguing character
Karen Robinson
The Sunday Times
Full Review
the master is in fine form
Sally Cousins
The Telegraph
Full Review
The political quarrels of the 1960s are brilliantly evoked... So is the Cold War atmosphere
Joan Smith
The Independent
Full Review
John le Carré never, ever phones it in... he is still capable of producing a novel as odd, as ungainly, and as compelling as ''Absolute Friends.''
Terrence Rafferty
The New York Times
Full Review
... a piercing, compassionate portrait of a decent man struggling to keep up with a world in the throes of constant change
Kirkus Reviews
Full Review
No reader, whatever his politics, could fail to be moved by the passion and intelligence of le Carré's latest. For those who feel as he does about the war and its consequences, this book will be a special gift
Publishers Weekly
Full Review
This is le Carré with a twist, the Old Master developing new techniques for a new age
Raymond Seitz
The Sunday Times
Absolute Friends is vintage John le Carré: complex, often sardonically funny, always galvanically written.
Daily Express