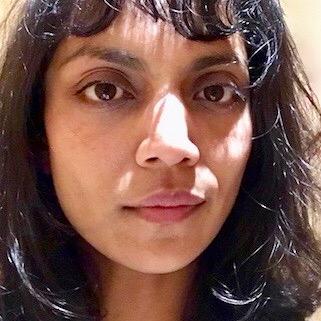 Fawzia


Mahmood

Producer and Script Editor
Fawzia is a London-based producer and script editor. She graduated from the National Film and Television School with an MA in Producing in 2017, having been awarded a scholarship by producer Duncan Kenworthy.
Fawzia's first feature as producer, Acta Non Verba, premiered at the 70th Locarno Festival in 2017 and won a Grierson Award.
She is currently script editing a TV drama in development for FilmWave and recently produced a comedy feature for Shiny Button Productions and UKTV.
Fawzia is developing a slate of film and TV projects. She was selected to participate in Edinburgh Film Festival Talent Lab 2018, Berlinale Talents 2019 and Ji.hlava Emerging Producers 2020, as one of 18 rising producers from across Europe.
Film
Producer
Feature in development written and directed by Francesca Castelbuono
Feature in development written and directed by Ayo Akingbade
Locarno Festival 2017; São Paulo Film Festival 2017; Winner of Grierson Award 2017 for ITV Best Student Documentary; RTS Award 2018 for Best Postgraduate Factual; Best Documentary Feature at Brussels Film Festival 2019
Starring
Maya Kazan
Bel Powley
Lewis Reeves
BFI London Film Festival 2017; Anima Mundi Brazil 2017; London International Animation Festival 2017; London Short Film Festival 2018; British Shorts Film Festival, Berlin 2018; long-listed for BAFTA Award 2018 for Best Short Animation
Starring
David Bamber
Deborah Cornelius
Official Selection: San Diego Film Festival 2018; Vancouver International Film Festival 2018
Director
Anton Brandt Thykier
Starring
Kate Braithwaite
Associate Producer
Starring
Tanya Fear
Hussina Raja
Aki Omoshaybi
BFI London Film Festival 2016; Los Angeles Film Festival 2016; Urbanworld Film Festival 2016; BlackStar Film Festival 2016; Durban Film Festival 2017
Starring
Carolyn Zanelli
Shanae Humphrey
Hollywood Reel Independent Film Festival
Production Team
Starring
Jessamine-Bliss Bell
Ali Khan
Director
Chiwetel Ejiofor
Starring
Chiwetel Ejiofor
Maxwell Simba
Director
Lenny Abrahamson
Starring
Domhnall Gleeson
Ruth Wilson
Starring
Isabelle Huppert
Jean-Louis Trintignant
Starring
Julie Delpy
Dany Boon