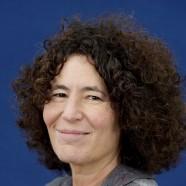 Francesca Simon is the author of the hugely popular Horrid Henry series, which has sold over 21 million copies and is published in 29 countries. She has written more than 50 books and won the Children's Book of the Year in 2008 at the British Book Awards for Horrid Henry and the Abominable Snowman.

Her books for older children include The Sleeping Army and The Lost Gods. Francesca's first book for teens, The Monstrous Child, about Hel, the Norse Goddess of the dead, was shortlisted for both the 2017 Costa Book Awards and the YA Book Prize. She has written an opera based on The Monstrous Child for the Royal Opera House with the composer Gavin Higgins, which premiered in February 2019.

Francesca went to Yale and Oxford University, where she studied medieval literature, art history, and Anglo-Saxon. She lives in London with her family.