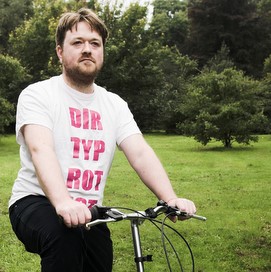 Gary


Owen

Writer for television and theatre
Gary Owen is a Welsh playwright and screenwriter. His recent plays include the award winning Killology which premiered at the Sherman then played at the Royal Court, Violence and Son which had its premiere at the Royal Court, and Iphigenia in Splott for which he won the James Tait Black Prize for Drama.
His other works include Love Steals Us From Loneliness, Crazy Gary's Mobile Disco, The Shadow of a Boy, (winner of Meyer Whitworth and George Devine awards), The Drowned World  (winner of Fringe First and Pearson Best Play awards), Ghost City, Cancer Time, SK8, Big Hopes, In the Pipeline, Blackthorn, Mary Twice, Amgen:Broken, Bulletproof, and Free Folk. His adaptations include Spring Awakening and Ring Ring, a new version of La Ronde, for the Royal Welsh College of Music and Drama; and Dickens' A Christmas Carol for Sherman Cymru. He is a Creative Associate at Watford Palace Theatre, where his plays We That Are Left, Mrs Reynolds and the Ruffian, and Perfect Match have been produced, and Associate Artist at Sherman Cymru. Gary also co-created and co-wrote two seasons of Baker Boys, an original series for BBC Wales. Work in 2016 includes Jeramee, Hartleby and Oooglemore, a play for toddlers at the Unicorn Theatre, to be directed by Tim Crouch; and Mrs Reynolds a'r Cena Bach, a Welsh adaptation of Mrs Reynolds and the Ruffian for Theatr Genedlaethol Cymru.
Theatre
Executive Producer
An updated version of Frank Wedekind's 1890's play about teenagers discovering sex
Royal Welsh College of Music and Drama
Television
Writer
Starring
Gareth Jewell
Steve Meo
Richard Corgan
Joshua Jenkins .
Second series of Welsh drama for BBC Wales co-written with Helen Raynor
Producer
Juliet Charlesworth
Starring
Boyd Clack
Eiry Hughes
Steve Meo
Eva Myles
Original three part drama for BBC Wales co-written with Helen Raynor
Creator & Writer
By any measure going, this is perfect theatre: intelligent, moving, and horribly, horribly relevant. Most of all, though, in those final moments, it feels like the start of a revolution.
Andrew Haydon
The Guardian on Iphigenia in Splott