Mrs Reynolds and the Ruffian
Nominated for a TMA Award for Best New Play 2010
theatre
Watford Palace Theatre
Mrs Reynolds is a little old lady. Jay is a troubled youth. When he vandalises her lovingly tended garden, the authorities send him back to help her fix it. It seems a recipe for disaster - but human beings are more complex than the headlines.
Media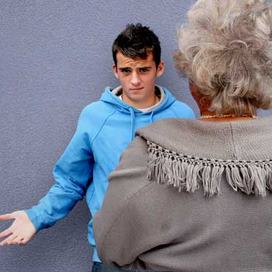 Reviews
There's enough honest, searching inquiry in Owen's enlivening, profoundly optimistic script about lost youth, hardened old age and late moral harvests to keep this night alive.
Lucy Powell
The Times
can a bad seed ever grow? Of course it can, and Owen's urban fairytale shows how...a big heart and the ability to confront its audience's prejudices while thoroughly entertaining them. ****
Lyn Gardner
The Guardian
Owen is clearly talented, and his often amusing, finally touching play doesn't avoid demonising its tearaway teen, Jay, only to turn him into an implausible angel.
Dominic Cavendish
The Telegraph