Phyllis Wong and the Return of the Conjuror
book
| Fiction
| Jun 2014
Phyllis Wong, that keen young magician with a talent for sleuthing and getting to the bottom of the strangest mysteries, is back!

Here, in this astonishing new story, she finds her world turned upside-down as she discovers that there is magic about that is far more amazing than even she could imagine and villainy the likes of which she has never encountered! This strange new world propels her back to a mystery originating from the time of the world's greatest writer, William Shakespeare - a mystery that is seeping into the 21st century! A mystery that only a conjuror like Phyllis Wong can try to solve!

As Phyllis herself says: 'Fasten your seatbelts, ladies and gentlemen … the ride will get bumpy!'

The most intriguing story yet from the ever-popular author Geoffrey McSkimming.
Rights
Roxane Edouard manages the translation rights for Phyllis Wong and the Return of the Conjuror
Media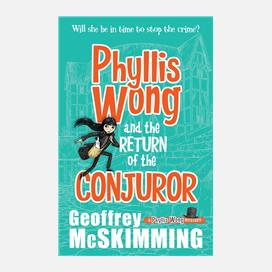 Reviews
Readers of the first book won't be disappointed with this one. Shakespeare fans will also enjoy the significant amount of time spent in London during the Jacobean period.

School Library Journal
Full Review
Another real page-turner (I read it in one sitting!) this second volume of Phyllis Wong certainly has me anticipating the next instalment.
Sue Warren
Just So Stories
The large and colourful vocabulary in Phyllis Wong and the Return of the Conjuror should delight readers who love words ... the prose is jaunty with well-sustained humour, the characters quirky and likeable, and the villain suitably evil. Recommended.
Magpies
Full Review
Lively, suspenseful and funny. Loads of personality and very clever. Magician Fever.
Dymocks
Geoffrey McSkimming has written a humourous and suspenseful children's novel which demonstrates the power of good writing to evoke the sounds, sights, smells of a vast array of different settings and scenes. In Phyllis Wong, he has created a uniquely curious, intelligent and entertaining heroine whose quirky activities and interests are sure to delight.

Margaret McKay - Lownde
This is a magical gem! Highly entertaining, with mystery, adventure and Shakespearean history united with a highly competent and independent female lead character who displays amazing intellectual skills and organisation. One of the delights of this book is Phyllis's connections to some quirky adults and an extremely eccentric school friend. Her friend, Clement, is the ultimate bizarre sidekick, who adds a considerable comic element to her adventures in time. Recommended as a fun fictional fantasy.

Readplus