Guy Bass is an award-winning children's book author. His book series include Stitch Head, Dinkin Dings, Atomic!, Gormy Ruckles, Secret Santa: Agent of X.M.A.S. and Alien Invasion/Alien Escape. He won a Blue Peter Book Award in 2010 for Dinkin Dings and the Frightening Things and has won a number of local book awards.

First published in 2008, Guy's books have since been translated into several languages. He has also written plays for both adults and children. Guy has previously been a theatre producer, actor and illustrator. His current illustration work includes The Munglers Trumps cards, a library-based reading incentive project.

A Visit from Guy
Guy's event is an interactive (and active!) combination of stand-up, reading, pictures, props and occasionally even a bit of dressing up. His high-octane performance explores his childhood aspirations and inspirations and includes animated readings from his books. Suitable for Years 3-6 with no real limit on numbers.

Of course, it's good for everyone if books are available to buy at the event! They can be ordered through a local bookseller (who will also handle sales) or directly through the publishers at a discount. In this case, someone will need to be on hand to sell the books. To order books and publicity material (posters/postcards/show cards) please contact Kate Smith at Stripes Publishing or publicity@scholastic.co.uk for Scholastic books.

Contact Liz Scott (liz@lizscottpr.co.uk) to arrange a visit from Guy for your school, library or festival

Duration: 50 mins - 1 hour (extra time needed for book signing)
Technical Requirements: A large table and 2 chairs – USB sldeshow available larger audiences (laptop/projector etc required!)
Audience: 300+. Guy's event tends to work best with larger audiences. A minimum of around 100 children per event is preferred.
Age: 7-10

Fees and Expenses
£275 + travel (1 event)
£375 + travel (2 events)
Guy will get to you by train (and cab or collection from the station). He's based in London, so early morning events outside London and the surrounding area may also require accommodation on the night prior to the event, the cost of which will be added to the invoice. You'll be invoiced by Liz Scott after the event.
Media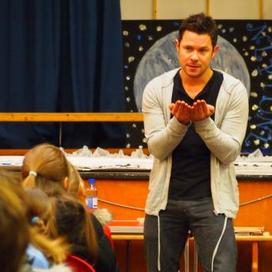 Reviews
"Thank you so very much for your incredible visit. You made a huge impact on our children and they had a ball. One boy said it was the best morning in school he's ever had! Many staff were jealous at having missed your performance! It is people like you that are need to inspire young readers."
Miss K Etchells, Teacher
"Guy's enthusiasm was infectious and his ability to hold the attention of 150 children was astonishing. The amount of energy and effort that he put in to his event was a real credit to him – if all events were like his, it'd be a bookseller's dream."
Jessica Sage, Events Co-ordinator, South Coast (Waterstones)
"Guy was absolutely brilliant. I haven't felt so excited about an author for younger readers since Andy Stanton. And I mean that! The children at Beech Hyde mobbed him as he was leaving (I have never seen anything like this before)."
Andrea Goodall, the St Albans Book Group
"Thanks for a great day's work – you left a lot of kids very enthused!"
Martin Stone, Greenwich Libraries
"Just had to drop you a line to say thanks for entertaining my two sons at Latitude Festival – they are now totally protected against Zombaliens and have spoken about little else since!"
Debbie Beckwith, Nathan and Edward's Mum