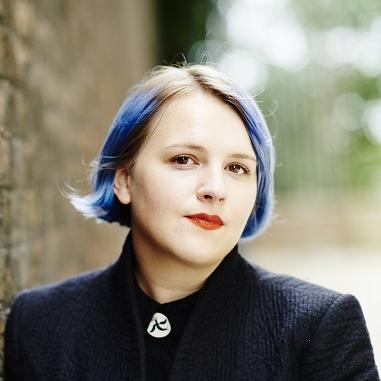 Imogen studied Archaeology, Anthropology and Art History at UEA's Sainsbury Centre for Visual Arts before going on to work in museums. She began to write small pieces of fiction inspired by the artefacts she worked with and around, and in 2013 won the Malcolm Bradbury Memorial Scholarship to study for an MA in Creative Writing at UEA.
She won the Curtis Brown Prize for her dissertation, which grew into a novel titled The Mermaid and Mrs Hancock. An early draft was a finalist in the MsLexia First Novel Competition 2015, and it was also one of three entries shortlisted for the inaugural Deborah Rogers Foundation Writers' Award.
Imogen lives, works, and walks around south-east London – an area whose history she takes a keen interest in – and her first novel, The Mermaid & Mrs Hancock, was published in 2018.
There is much to chew on here, and much to savour, presented with wit and showmanship. Would that showmanship were a gender-neutral word, though, because all the elan of this book is female, from the madams running their girls, to the book's most obvious literary forebear, Angela Carter's Nights at the Circus. Imogen Hermes Gowar delights in the feminine fakery of mermaids, but as a writer she is the real deal.
The Guardian
on The Mermaid & Mrs Hancock
The story is by turns intriguing, touching, funny, sad and heartwarming. It will make you laugh and it may make you cry. Mostly, though, the cast of endlessly engaging characters will keep you turning the pages until you get to the wholly satisfying ending.
The Times
on The Mermaid & Mrs Hancock
Fascinating and funny... this is undoubtedly the start of a major career for this young writer.
Vogue
on The Mermaid & Mrs Hancock
RT @byers90: The absolute audacity of May using her resignation speech to shamelessly reframe her worst failings as moral successes. The ne…
Follow @girlhermes