film


Producer

Victoria Gregory

Starring
Tom Hardy

Distributor Kaleidoscope Distribution Production Company New Black Films
James Erskine's rousing, celebratory crick-pic recounts the extraordinary story of the resurrection of English cricket that took place one hot summer month in 1981.
July '81: rioting and discontent across the streets of England and on the cricket field England are 1 - 0 down after two tests and on the brink of going further into arrears against the old enemy, Australia.
Only one man stands between Australia and victory: the discredited and miserably out of form ex captain Ian Botham. Bookmakers put the odds on a turnaround at 500 - 1 and both teams have checked out their hotels. Yet in the space of a few hours, the tide is turned and in the coming month, somehow the Australians are put to the sword.
The film mixes previously unseen archive with exclusive new interviews with the key figures from the series. Narrated by Tom Hardy, it opens for a one night celebration of this remarkable sporting story on May 10 across the country.
Media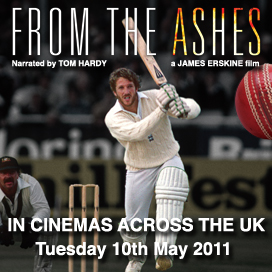 Reviews
A tale of sporting heroics that still thrills three decades on
Shortlist
Erskine's gripping documentary on Botham's brief captaincy of England in 1981 ... is a valuable contribution to the cinema of cricket. It is quite as remarkable as The Damned United, Tom Hooper's film about the rivalry between Brian Clough and Don Revie.
Phillip French
The Observer