theatre


Director

Kate Wasserberg

Starring
Barry Aird
Colette Kelly
William Maxwell
Kazia Pelka

Finborough Theatre
James Graham's acclaimed modern history play, set in his home town a few years before his birth, opened at the Finbrough Theatre in September 2008.

Hull. December 1978. The Winter of Discontent begins. Rubbish rots on the streets and picket lines block the factory gates. Feeling betrayed by the Labour government, a community battens down the hatches and prepares to fight. Britain's future hangs in the balance – and by summer, nothing will ever be the same again.

Meanwhile, on Arthur Street, Mam is dying, Dad can't cope and no one dares tell him that Mark doesn't want to be a truck driver...
Media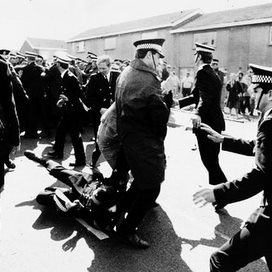 Reviews
It's hard to argue with the play's lovely writing, and its lambent humanity... The acting is uniformly superb

Brian Logan
Time Out
Having tackled Thatcher, Heath and Eden successfully, James Graham is fast building a reputation as a sharp-eyed and witty political playwright...Graham's writing has warmth and sincerity
Sam Marlowe
The Times