What would you do if you uncovered a deeply-buried family secret? Would you keep it hidden? Or would you tell?

When Jen discovers that her beloved father-in-law has been hiding the biggest secret of all – a double life with a second family – she decides to keep it under wraps in order to protect her husband and his family. What they don't know can't hurt them.

But it becomes increasingly difficult to keep the skeleton tucked neatly away in the closet, and soon the cracks begin to show in her own marriage. Can she keep his secret safe? And will she do so at the cost of her own family?

Skeletons is an engrossing, psychologically-astute look at families and the damage they can do to one another.

Rights
Film Rights
Available
Contact Jonny Geller for more information
Audio Rights
Available
The audio rights are handled by Alice Lutyens.
Translation Rights Sold
Dutch
World
Uitgeverij De Kern
Media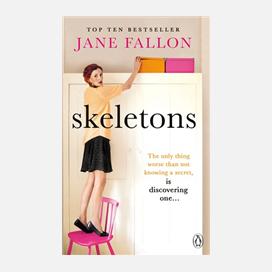 Reviews
complex,moreish,emotionally,intelligent!
Mail Online