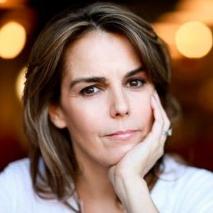 book
Fiction
World English
Crown Publishing
(Ed. Hilary Rubin Teeman)
It's 1989 in New York City, and Ava Fischer is a mess: she's broke, her teenage daughter is barely speaking to her, and her estranged mother's ashes have just arrived from Germany by mail. Things were never easy between Ava and her mother Ilse. Throughout Ava's childhood in Germany, first in an orphanage after WWII and then in Ilse's care, too many unspoken secrets hovered between them: who was Ava's father? Why won't her mother tell her anything about him? And what exactly was Ilse doing during the war? In a trove of unsent letters that arrive with Ilse's ashes, written to her childhood best friend Renate, Ava begins to find her answers, sending her spiraling deep into the past of the mother she never truly knew.

It's 1933 in Berlin. Two young girls, Renate and Ilse, meet at school and become inseparable friends. Bonded by their mutual bookishness, Ilse is the confident mischief-maker to Renate's brainy klutz. But as the Nazi party tightens its grip on the city, the two girls find their friendship torn apart by the Nuremberg Laws. As Ilse is increasingly drawn in by the Hitler Youth movement and its promise of a Germany restored to greatness, and Renate is forced to confront a family secret long since buried, one friend will catastrophically betray the other, with reverberations that will be felt for generations to come.

Tracking between these two inter-connected narratives, Wunderland traverses from the immemorial horrors of Kristallnacht to the seedy underbelly of the East Village in the 80's, the dark truths of the past answering to the call of the present. Inspired by the real-life memoir of a former Hitler Youth enthusiast – with echoes of Jessica Shattuck's The Women in the Castle and Georgia Hunter's We Were the Lucky Ones – Wunderland is at once an intimate portrait of a friendship riven by the tides of history, and a sweeping saga of wartime and its legacy.


Rights
Film Rights
Available
Contact Amelia Atlas for more information
Claire Nozieres manages the translation rights for Wunderland
Translation Rights Sold
Hebrew
World
Matar Publishing House
Italian
World
Rizzoli Editore
Spanish
World
Ediciones B
Reviews
Not only an original and searing investigation into the seductive and terrifying world of Hitler's National Socialist movement and its aftermath, but also a suspenseful and profoundly moving story of love, hate, passion and devotion.

Joanna Hershon