The Geography of You and Me
Film Rights Optioned

book
| Fiction
| 2014
US & Canada →
Little, Brown & Company
(Ed. Elizabeth Bewley)
UK & Comm →
Headline Publishing
Lucy and Owen meet somewhere between the tenth and eleventh floors of a New York City apartment building, on an elevator rendered useless by a citywide blackout. After they're rescued, they spend a single night together, wandering the darkened streets and marveling at the rare appearance of stars above Manhattan. But once the power is restored, so is reality. Lucy soon moves to Edinburgh with her parents, while Owen heads out west with his father.

Lucy and Owen's relationship plays out across the globe as they stay in touch through postcards, occasional e-mails, and - finally - a reunion in the city where they first met.

A carefully charted map of a long-distance relationship, Jennifer E. Smith's new novel shows that the center of the world isn't necessarily a place. It can be a person, too.

Rights
Audio Rights
Available
The audio rights are handled by Liz Farrell.
Roxane Edouard manages the translation rights for The Geography of You and Me
Translation Rights Sold
Dutch
World
Uitgeverij De Fontein
French
World
Hachette Jeunesse
Hungarian
World
Maxim Jakubowski
Italian
World
Sperling E Kupfer
Polish
World
Wydawnictwo Bukowy Las
Spanish
World
Nocturna Ediciones
Turkish
World
Marti Yayinlari
Media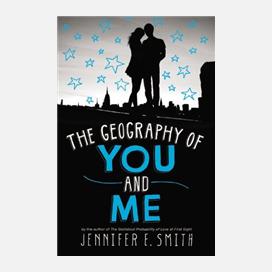 Reviews
It's a classic dish served up with style, heart, and a long-distance yearning immediately recognizable to anyone who's had to love from afar. And Smith makes it all look as effortless.
Kirkus, starred review
Full Review
Truth about love always gets our attention, and this book will catch readers.
Kirkus
Full Review
Fans of Sarah Dessen, Elizabeth Eulberg, and Susane Colasanti will enjoy Smith's latest meet-cute romance.
School Library Journal
Full Review
Smith has written a sweet, moody story that can also be deeply heartbreaking.
Publishers Weekly
Full Review
Fans of Smith's previous works, namely The Statistical Probability of Love at First Sight, and other love stories like John Green's The Fault in Our Stars and David Levithan's Every Day will like this novel, which is a similar combination of head and heart. The book is perfectly wholesome, without any harsh language or sexual content, so it will be a welcome addition to any library.
Voices of Young Advocates starred review
Full Review
Fans of Smith's previous novels will recognize the alternating narration; the reflective, deliberate writing style; and the way serendipitous coincidences bring the characters together.
The Horn Book
Full Review
Readers on the verge of moving on to new territories, emotionally or physically, will find new ways to think about anchors here, or maybe they'll just indulge in the pleasures of a sweetly predictable love story.
The Bulletin
Full Review
The Geography of You and Me is a magic, magic book. It will take you to a place we all want to live, where true love overcomes any distance.
Huntley Fitzpatrick
author of My Life Next Door and What I Thought Was True
Jennifer E. Smith represents the absolute best in YA writing, and readers will carrythis poignant love story in their hearts far after the last sentence is read.
Susane Colasanti
bestselling author of When It Happens
The greatest space between two people is measured in emotions, not miles. The Geography of You and Me is a true, tender long-distance love story guaranteed to strike a resonant chord in hopeful romantics everywhere.
Megan McCafferty
bestselling author of the Jessica Darling series and Bumped
Smith captures the romantic sparks that fly in unusual situations and the way love can build even when circumstances keep people apart. If you like your romances with a bit of European adventure, some New York glamour and a lot of honestheart, this one's for you.
E. Lockhart
author of The Boyfriend List and The Disreputable History of Frankie Landau-Banks