book
| Fiction
| Jun 2020
UK →
Bloomsbury Publishing
(Ed. Alexandra Pringle)
Beth lives in the tree-shrouded no-man's land by Camden Lock with her partner Sol and their daughter Fern. Life is peaceful, but Beth is troubled by increasing unease. It could be the uncertainty over her mother, who disappeared when Beth was a child. Or it could be her sense that Fern is keeping secrets from her.

So she goes to therapy. Dr Tamara Bywater is there to help her patients. But what if the very person who is meant to be the solution becomes the most dangerous problem of all? And why is what's bad for us so enticing?

Rights
Film Rights
Available
Contact Luke Speed for more information
Audio Rights
Available
The audio rights are handled by Alice Lutyens.
Kate Cooper manages the translation rights for The Seduction
Media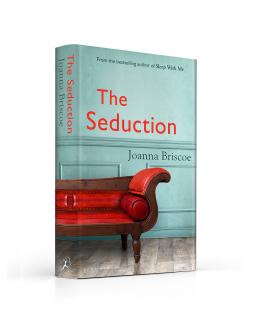 Reviews
'Through this addictive, macabre fairground ride of a novel, Briscoe reminds us to value the quieter forms of love'
The Guardian
'A gripping thriller'
Independent Online
'As fans might expect, Briscoe's new novel is a page-turning psycho sexual romp … As Briscoe folds generous swirls of melodrama into the mix, the novel's temperature rises from
feverish to volcanic … enjoy the helter-skelter ride'
The Daily Mail
'Joanna Briscoe is one of those writers who manages to pull off that combination of pin-sharp prose with the pull of a plot that keeps you turning the pages.
Richly observed, The Seduction is a rewardingly moreish read'

Living Magazines
'Febrile urgent tale'
The Sunday Times
'A classy, compulsive tale of desire and obsession, it glitters with menace'

The Mail on Sunday
[A] 'vivid and evocative tale of obsession and deception'

The Sunday Mirror
'The author has a fine eye for aesthetic detail and an even finer one for parental relationships… this is seduction of the most insidious kind'

The Spectator
'Juicy and thrilling'

Heat
Briscoe has a dreamy, elliptical style that reflects the dreamy, elliptical sensibilities of her characters ... a sizzling new thriller.

The New York Times
'...credit Briscoe with provocatively plumbing a pair of complex women ready to risk all to feel electrically alive.'

Publishers Weekly
'This compelling, erotically charged novel from Briscoe imagines a therapeutic relationship gone seriously awry.....Spare but richly poetic language makes an insightful literary thriller.'

Booklist
Full Review
'...the novel presents a slickly beautiful vision of fantasy, layered under with ferocious, stabbing brushstrokes of pain. A haunting novel that lays bare the ugliness of narcissism at its most extreme.'


Kirkus
Full Review