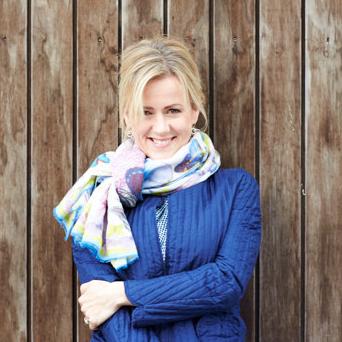 book
Fiction
UK & Comm Penguin
US & Canada Penguin
Lou Clark knows lots of things. She knows how many footsteps there are between the bus stop and home. She knows she likes working in The Buttered Bun tea shop and she knows she might not love her boyfriend Patrick. What Lou doesn't know is she's about to lose her job or that knowing what's coming is what keeps her sane...
Will Traynor knows a motorcycle accident took away his desire to live. He knows everything feels very small and rather joyless now and he knows exactly how he's going to put a stop to that. What Will doesn't know is that Lou is about to burst into his world in a riot of colour...
And neither of them knows they're going to change the other for all time.
Rights
Katie McGowan manages the translation rights for Me Before You
Translation Rights Sold
Albanian
World
Uegen Publishing House
Arabic
World
Dar Altanweer
Armenian
World
Zangak Publishing House
Bulgarian
World
Hermes Publishing House
Chinese Complex
Taiwan
Taitien Electric Co. Ltd
Chinese Simple
Mainland China
Guangxi Science & Technology Publishing House
Croatian
World
Profil International
Czech
World
Euromedia Group
Dutch
World
Uitgeverij De Kern
Estonian
World
Kunst Publishers
Finnish
World
Gummerus Publishers
Finnish
World
Gummerus Publishers
French
World
Editions Bragelonne
Georgian
World
Books in Batumi
German
World
Rowohlt Verlag
Greek
World
Psichogios Publ Co Greece
Hungarian
World
Cartaphilus
Indonesian
World
PT Gramedia Pustaka Utama
Italian
World
Mondadori Arnoldo
Japanese
World
Shuei Sha Publishing Co
Korean
World
Sallim Publishing
Latvian
World
Zvaigzne ABC Publishers
Lithuanian
World
Jotema UAB
Macedonian
World
Kultura Publishing House
Mongolian
World
Bolor Sudar
Montenegrin
World
Nova Knjiga
Norwegian
World
Bastion Forlag
Polish
World
Swiat Ksiazki
Portuguese
Portugal
Porto Editora
Portuguese
Brazil
Editora Intrinseca
Romanian
World
Litera International
Russian
World
Atticus Publishing Group
Serbian
World
Vulkan Publishing
Sinhalese
World
Wijesooriya Grantha Kendraya
Slovene
World
Mladinska Knjiga
Spanish
World
Suma de Letras
Swedish
World
Printz Publishing
Thai
World
Earnest Publishers
Ukrainian
World
Book Club, Family Leisure Club
Vietnamese
World
Tre Publishing House
Media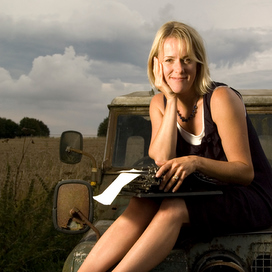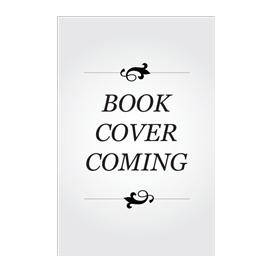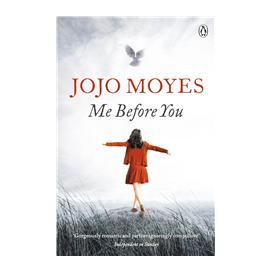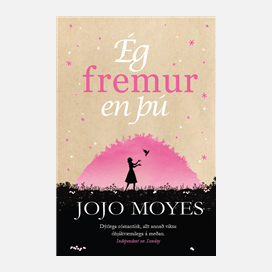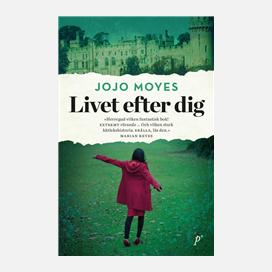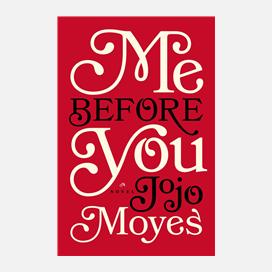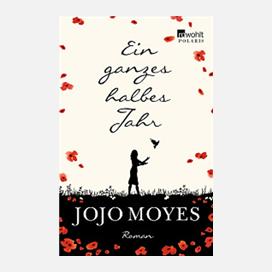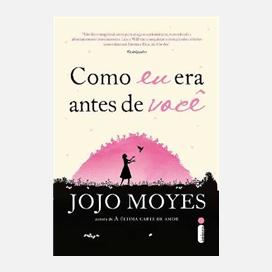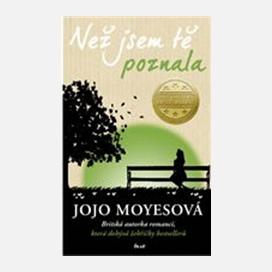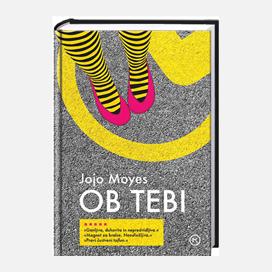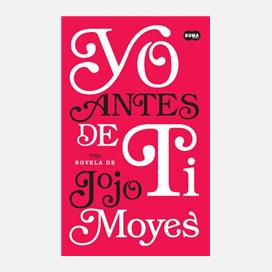 Reviews

Hailed as the new One Day, Jojo Moyes' latest book is a heart-breaking but page-turning tale...One to pass between your girlfriends.
Sheer Luxe
Moyes does a majestic job of conjuring a cast of characters who are charismatic, credible and utterly compelling; Lou and Will are a couple who readers will take to their hearts as they did One Day's Emma and Dex.

Alexandra Heminsley
The Independent
Full Review

Me Before You is a bittersweet story about love, learning and letting go. It's a tremendous read and I loved it. Sara Lawrence
Daily Mail

A compelling portrait of an unlikely couple that is less about disability than emotional accommodation. Emma Hagestadt
The Independent

Heartbreaking, soul-searching and utterly compelling. Beatrice Hodgkin
Easy Living

5 stars: Funny, believable and heartbreaking, this is sure to be the weepy of 2012.
Woman's Own

A heartbreaking yet ultimately uplifting tale about the relationship between an embittered quadriplegic man and the carer who is trying to give him a reason to live. Joanne Finney
Good Housekeeping

5 stars: This truly beautiful story made us laugh, smile and sob like a baby – you simply have to read it.
Closer

5 stars: Poignant and beautifully written, this book will stay with you long after you've put it down.
The Star

Beautifully written. Natasha Harding
The Sun

Romantic, thought-provoking tear-jerker that you won't be able to put down.
Woman and Home

Devotees of Jojo Moyes and newcomers alike will settle into this entertaining book with gusto.
Sunday Express

Jojo Moyes has done it again with this funny, touching tale that is impossible to put down. Make sure you have a box of tissues to hand!
Candis

Her story of love blossoming in the most unlikely of ways packs such an emotional punch, you'll need a box of tissues...It's a triumph.
Elle

It's magical and heart-breaking, but doesn't shy away from difficuly emotional realities. Waterproof mascara essential.
Marie Claire

Me Before You, at its heart, is about two people who properly listen to each other; it is something good.
Independent on Sunday

Jojo Moyes has written the perfect modern love story...It's that good. Read it now. Adriana Trigiani, author of The Shoemaker's Wife
Full Review

Enthralling.
Publishers Weekly, starred review

Me Before You is a page-turner that sucks the reader into caring about its heroine.
USA Today

I found myself crying at the end because I was so moved by the story.
Hutchinson Leader

There are books that you cannot put down. There are also books where you become so invested in the characters, you force yourself to stop reading to prolong the experience because you don't want the story to end, and that's what can happen when you read Jojo Moyes' latest book, Me Before You. Alicia Rancilio
Times Colonist

In Moyes's memorable novel, a young woman who assists a wealthy quadriplegic devises adventures they can undertake together.
New York Times: Editor's Choice
When I finished this novel, I didn't want to review it: I wanted to reread it. Which might seem perverse if you know that for most of the last hundred pages I was dissolved in tears. Jojo Moyes, the writer who produced this emotional typhoon, knows very well that Me Before You . . . is [a] 'real weepy.' Moyes's story provokes tears that are redemptive, the opposite of gratuitous. Some situations, she forces the reader to recognize, really are worth crying over. . . . An affair to remember.
Liesl Schillinger
New York Times

Me Before You is a page-turner that sucks the reader into caring about the fate of the heroine. . . . By turns funny and moving but never predictable. The plot contains a number of surprises and raises thoughtful questions.
USA Today

Me Before You is the kind of book you simply can't put down—even when you realize you don't want to see it end. . . . A big-hearted, beautifully written story that teaches us it is never too late to truly start living.
Bookpage

Moyes' newest work dials down the intricacy, and the result is a far more intimate novel.
Booklist

An unlikely love story involving a fallen Master of the Universe and the down-to-earth caretaker who revives him. To be devoured like candy, between tears.
O, The Oprah Magazine

Readers will fall in love with these two irrepressible souls brought together by the very conflict that may tear them apart.
Shelf Awareness

Heartbreak collides with humour.
Good Housekeeping USA

Written with warmth and wit, this superior weepie will have you sobbing on your sunlounger.
The Irish Times

Me Before You is a delicious surprise — funny and hopeful and heartbreaking, the kind of story that will keep you turning pages into the night. Lou Clark and Will Traynor will capture your heart and linger there long after their story has ended. Eleanor Brown, author of The Weird Sisters
Full Review

Have the tissues nearby for this beautiful, satisfying read. Be prepared to read it straight through. A wonderful story of a quadriplegic and his caretaker. San Francisco Chronicle

I will stake my reputation on this book
Anne Lamott
People Magazine
Full Review

Funny and moving love story
Shelf Awareness Full Review