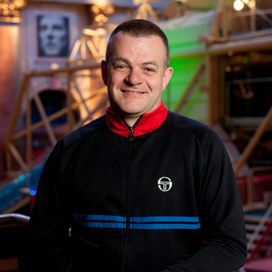 Jonathan


Harvey

Novelist, playwright and writer for television
Jonathan Harvey wrote his first play in 1987, and has since written over 15 more, including Babies, Boom Bang-A-Bang and Beautiful Thing, which was later made into an acclaimed film. He has been the recipient of the Evening Standard, George Devine and John Whiting Awards, and his work has been both Bafta- and Olivier-nominated. He has been hailed as 'the new theatrical voice of his generation'.

Jonathan is also a writer for Coronation Street, on which he has worked since 2004, and his extensive television writing includes his television series, Beautiful People and Gimme, Gimme, Gimme. His first novel was published in 2012.

Jonathan lives in Liverpool, the city where he was born. He originally trained and worked as a teacher, and now runs his own production company.
I knew Jonathan Harvey could make me laugh. I didn't expect him to make me cry too.
Jojo Moyes
on The History of Us
One of the funniest, most honest and scabrous writers we have.
Jenny Colgan
on The Years She Stole