book
| Fiction
| 2012
World →
Pan Macmillan
(Ed. Wayne Brooks)
There are some things in life you can always rely on. Getting the flu over Christmas, a horny Alsation ruining your best suede boots, and your Mother showing you up in the supermarket.

Then there are some things that you really don't count on but they happen anyway. A good dose of fame, getting completely trashed at an awards ceremony, and catching your fella doing something unmentionable on your wedding day.

My name's Jodie McGee and to be perfectly frank I've had it all, done it all and messed it all up. This is my story. Read it coz I'm, like, dead famous. But please, don't be too gobsmacked when it all goes tits up. You have been warned… Jodie xx
Rights
Liz Dennis manages the translation rights for All She Wants
Translation Rights Sold
Italian
World
Lit Edizioni
Media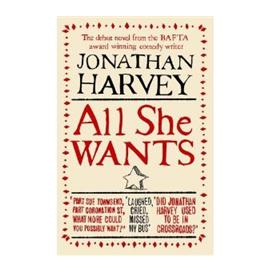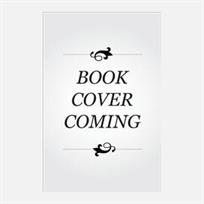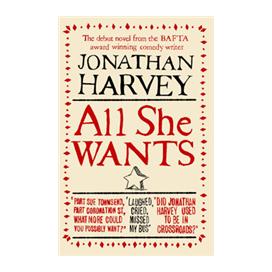 Reviews
All She Wants is utterly original, sharply written and very funny. I laughed, and then I laughed. And then I had to go back and re-read the bits that I'd missed and laugh some more. I can't wait to see what Harvey comes up with next.
Jojo Moyes
Author of Me Before You
Brilliantly observed, gloriously funny, and brimming with warmth..Everything I love about Jonathan's writing is in this book!
Katherine Kelly
Gimme Gimme Gimme Jonathan Harvey on holiday, on the train, on the sofa, but mainly in bed. I laughed and laughed, had shocked face, then laughed again until I fell out.
Frances Barber
Charming, Cheeky and Clever ... Read it!
Jennie McAlpine
If Harvey is the Scouse Proust, then this is his Remembrance of Things Pissed.
Caitlin Moran