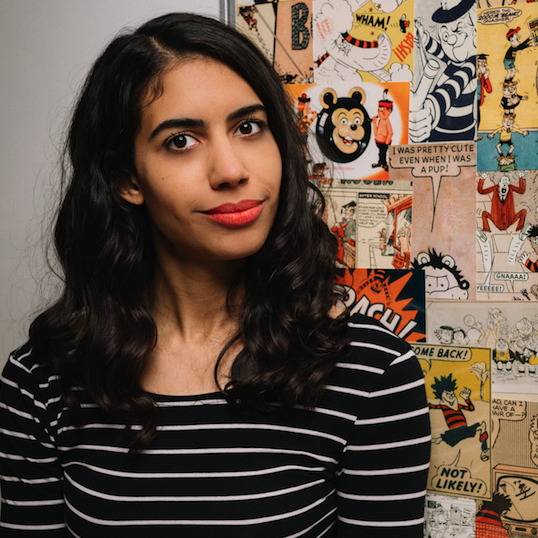 Karla


Marie Sweet


Karla is a writer for theatre, film and television.
Karla has over seven years of storytelling experience through her work at the BBC, Sony Pictures Entertainment and various indies. Whilst a Production Trainee at the BBC, Karla worked in the script department of long running medical drama Casualty. It was during this time that she wrote her first play and submitted it to the Grin Theatre Company's Young Playwrights Competition, which she subsequently won.
She got her start as a professional writer after her six-part mystery thriller was optioned by ITV Studios and she was invited to co-develop a drama series for Lime Pictures.
In 2017, Karla was one of ten writers shortlisted for Theatre503's annual residency programme. Later that year, her play Rupture previewed at the theatre before completing a full run at Edinburgh Fringe Festival (Underbelly), where it was longlisted for the Amnesty Freedom of Expression Award.
In her role as an Assistant Producer in Specialist Music at Radio 1 and 1Xtra, Karla worked with a whole horde of presenters including Trevor Nelson, Annie Mac, and DJ Target. She has also produced Radio 4 arts show Front Row and worked extensively with BBC Asian Network and 6 Music.
Karla spent several years working with Arts Emergency, a social change organisation that helps young people from difficult backgrounds gain access to the arts. She also produced and presented a podcast on behalf of the charity.
In 2018, Karla completed a year's actor training at Royal Central School of Speech and Drama, after which she formed theatre company Dead Good Theatre with several of her course mates. She performed as the lead in a sold out run of The Thing That Came to Dinner at London's Vault Festival, starred in RCSSD's production of Alice Birch's Astronauts and went on to perform in Nuts, a self-penned short play, in front of a sold out audience at Southwark Playhouse.
Karla is currently working with Big Deal Films on a teen drama for the BBC and was recently part of the writersroom for forthcoming Netflix drama Get Even.
RT @karlamsweet: "people are not poor because they've made bad choices... they make bad choices because they're poor." - zadie smith, swing…
Follow @karlamsweet
Television
Writer
Tall Story Pictures
In development
Lime Pictures
In development
Big Deal Films
In development
Boat Rocker/CBBC
for
Netflix
Theatre
Writer
Producer
Dead Good Theatre
A futuristic tragicomedy exploring climate change, bureaucracy and betrayal.

Underbelly Cowgate/Theatre 503