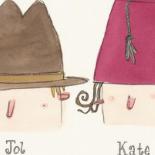 Curtis Brown Australia

Kate and Jol Temple have written three children's books including, Parrot Carrot, I Got This Hat and Mike I Don't Like. These books they have found themselves on short lists and NSW Premier's Reading Lists. They have also created two digital adaptions of their picture books which have received international awards for creativity.
Captain Jimmy Cook Discovers the Third Grade is their first work of Junior Fiction followed by the spin off Yours Troolie, Alice Troolie. When they are not writing silly stuff for kids they like to hang out with their two young sons and play Fan Tan.